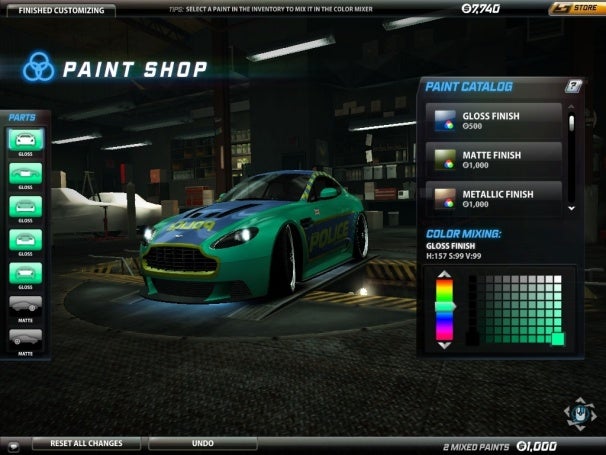 I'm a big fan of racing games, almost to an obsessive level. I attempt to play every single racing game that is released, and that includes all those NickToon racing games. It probably had something to do with all the amazing racing titles on the N64, and my obsession with those when they were released. I mention my history only so you understand how surprising it was to realize that I had never touched Need for Speed World, which is celebrating its two year anniversary today. To make up for my mistake I hopped online with some other racers and took a look at all the new features. After downloading the client and joining the game, I realized that my two regular usernames were taken. It isn't often that one is taken, let alone both of them, but when your game has 16.7 million active users, I guess it's understandable. I jumped into the car creator and let my inner car-lover take over. While Need For Speed World players are normally required to choose a starter car like a Mazda 3 or something of similar specs, we were given codes that awarded us with some Boost. Boost is purchased using real-world currency and used for upgrades, car purchases, and other advances in Need for Speed World that an also be unlocked by playing the game long enough. It was an interesting system for balancing time vs. money investment, and I was willing to participate. Well, after I saw the Aston Martin Vanquish (Police Spec), I was; instead of sticking with the classic black and white paint job though, I took it through the paint shop and made it blue and teal. Surprisingly it ended up looking acceptable, like something that a fancy European policeman would drive. Once I was satisfied with my car, I took it out to the open world and tried to get a feel of things using the mouse and keyboard. While that control setup doesn't work very well in most PC driving games, it works brilliantly in Need for Speed World. Evidently that's because 99 percent of the players use that setup, so the developers tuned the controls to fit, according to Marc de Vellis, a producer on Need for Speed World.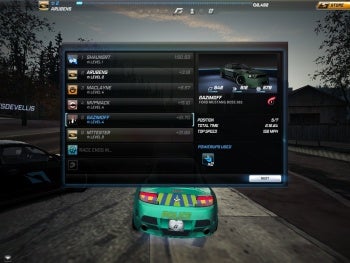 I got together with some other drivers and joined in on a race. There wasn't anything special about the race, but the power-ups did change the dynamic quite a bit. There are dozens of power-ups that you can purchase in the safehouse that map to the num-pad and change things up throughout the race period. Nitrous and Traffic Magnet were among my favorites, but defensive power-ups like Shield were incredibly helpful when the people behind me called in their offensive power-ups. After spending some time with it, it makes sense that Need for Speed World is as popular as it is. For their second anniversary today, they're releasing the 2012 Chevrolet Camaro ZL1 to all players, awarding double-XP until Friday, and giving players control of the free cam so that they can take better screenshots of their tricked out rides from any angle. The team is also openly working on the much-requested Drag mode that was made popular in the Need for Speed Underground series. There's a strong dedication to the fans of Need for Speed World and it's extremely encouraging. Go ahead and hop online this week to grab some of that double XP, you'll see me there.
Note: When you purchase something after clicking links in our articles, we may earn a small commission. Read our affiliate link policy for more details.