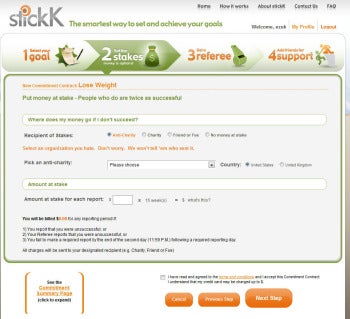 If you're looking for powerful motivation and accountability, you may want to look into StickK. This unique, free Web service lets you set a long-term goal with weekly check-ins. When you set the goal, you can commit a sum of money to making it. On every week when you've made the weekly goal (or kept up your habit), you get to keep your money. But if you fail to make the weekly goal or practice your habit, some of your money goes to charity.
If that isn't a strong enough motivator, SticK can also donate your money to an "anti-charity" of your choice–an organization you really don't want to have your money. StickK also lets you pick referees who know you and can keep you on the straight and narrow.
Note: The Download button takes you to the vendor's site, where you can use this Web-based software. It's free for personal use; for business use, contact the vendor, StickK.com.
–Erez Zukerman