Robert Talbot read Remove an Email Address in Gmail, and asked about doing the same thing in Outlook.
Outlook, like Gmail, offers an interesting convenience that can sometimes turn into a problem. If you send a message to someone who is not listed amongst your contacts, Outlook remembers the email address. When you start typing an address or name in the To field of an email, these unlisted addresses (sorry, I couldn't resist) pop up, along with those in your address book. This allows you to easily bring up someone's address without bothering to first enter it into Outlook's Contacts database.
But these unofficial addresses can also be annoying. If an out-of-date email address–or worse, an out-of-favor friend–pop up when you don't want it to, you might not consider it all that convenient.
But how can you delete an address from your contacts if that address isn't there to begin with? Actually, doing so is pretty easy in Outlook 2010:
When the name appears below the To field, point to the name but don't click. This will select it, and an x will appears to the right of the name or address. Click that x.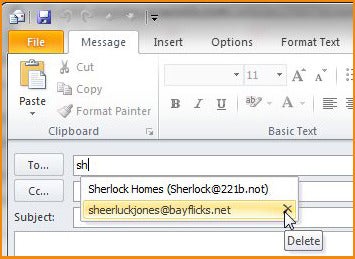 That name and address won't bother you again.
Contributing Editor Lincoln Spector writes about technology and cinema. Email your tech questions to him at answer@pcworld.com, or post them to a community of helpful folks on the PCW Answer Line forum. Follow Lincoln on Twitter, or subscribe to the Answer Line newsletter, e-mailed weekly.