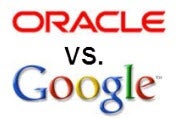 Oracle and Google are at loggerheads over some US$4 million in court costs Google wants Oracle to pay in connection with its patent and copyright lawsuit over the Android mobile OS.
Earlier this month, Google demanded that amount from Oracle as reimbursement for expert witness fees, document production and other expenses, arguing that it deserved as much since on balance, Google largely prevailed.
Since that time, Oracle met with Google but "the parties were not able to reach an agreement," Oracle said in a filing late Monday in U.S. District Court for the Northern District of California.
Oracle had alleged that Android violated copyrights and patents it holds on the Java programming language.
Earlier this year, the jury in the case found that Google hadn't violated Oracle's patents. It also found that Google had infringed on Oracle's Java copyrights, but deadlocked on whether those actions were protected under "fair use."
Meanwhile, a key issue in the trial revolved around whether APIs (application programming interfaces) were subject to copyright. Judge William Alsup ultimately ruled that the ones at issue in the case were not.
All of this means that Oracle shouldn't have to shell out the $4 million Google is demanding, Oracle said in its filing.
"First, because the key disputed issues concerning API copyrightability were close, complex, without direct precedent, and of great importance to the computer software industry, and neither Oracle nor Google prevailed on all claims in this case, the Court should exercise its discretion to deny costs and allow each party to bear its own expenses," Oracle said. "Denial of costs is particularly appropriate where the issues are close, difficult, and of public importance, and where the judgment is mixed."
Google's estimated costs for document production could be inflated as well, Oracle alleged: "The charges cover all processing of documents by [Google vendor] FTI and all labor of its personnel, with no attempt to separate the reasonable cost of copying documents for production from the non-taxable costs of services provided for Google's litigation convenience (such as organizing and searching the productions)."
In any event, the court should definitely deny Google's demand that Oracle pay Google's share of the fees paid to Dr. James Kearl, the court-appointed expert witness in the case, according to Oracle.
"The parties previously agreed, and the Court ordered, that these costs would be borne 'one half by each party,'" Oracle said. "Google's attempt to now shift all of Dr. Kearl's fees and expenses to Oracle is contrary to that agreement and order."
Meanwhile, it's not clear when the companies' overarching disagreements over Android will be resolved, as Oracle is expected to appeal Alsup's ruling on the APIs.
Chris Kanaracus covers enterprise software and general technology breaking news for The IDG News Service. Chris's e-mail address is Chris_Kanaracus@idg.com