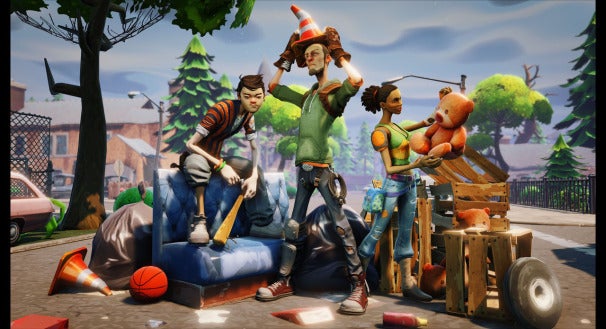 Epic Games has been showing off its new Unreal Engine 4 game engine technology this year to both developers and the media during GDC and E3 2012. The independent game studio has also tasked a team of approximately 15 to work with UE4 and create a new online PC game, Fortnite.
The game is worth following because it evinces a very different visual look and feel for Epic Games, and also introduces new gameplay we've never seen before from this shooter-focused development studio. Gameplay will encourage a group of players (Epic is still tweaking how many) to band together to build forts during the day to withstand attacks from a wide assortment of monsters at night. Tanya Jessen, producer for Fortnite, talks about what's in store for PC gamers with Fortnite in this exclusive interview.
Game On: Where did the idea for Fortnite come from?
Tanya Jessen: The idea for Fortnite actually came at the time when we were thinking a lot about different types of play styles, dynamic environments and crafting and building. All of this fun stuff combined with this childhood memory of what it was like to build forts in your backyard, or in your living room, and all the things you had to scavenge for to find them. That led up to this idea of Fortnite, which is a game where you and your friends go out and scavenge for stuff and discover the ability to build all sorts of unique and awesome-looking forts, and defend them against the enemies that are trying to attack you.
Can you talk about the different types of gameplay that's built into this experience?
Jessen: Fortnite's a really interesting game in that it's being made for all sorts of different types of personalities. For people who really like action, there are guns and tools and melee combat. People who are a more of a support-type personality can aid their friends and will do things that will support them either in combat or scavenging, grabbing resources and making sure there's enough for building. Our worlds are dynamic, and the idea is that scavenging is something that you'll want to do on a long-term basis. There will be lots of new and unique places for you to visit and discover, for people who really love that.
What was the inspiration for the visual look of Fortnite?
Jessen: The Fortnite world is a totally unique art style for us, where we're honing into this Pixar meets Tim Burton meets Looney Tune kind of vibe. Every element, everything that you see has its own personality, from the enemies to even the chairs and the dressers and stuff in the world, so that when you're there you're interested in finding out what happened.
How does the gameplay evolve between day and night?
Jessen: We're actually not getting into too much detail there because Fortnite to us is a living project; it's very iterative. We're constantly tweaking and tuning the best scenarios. But the thing I can tell you is that Fortnite is a dangerous world all the time. It's most dangerous at night and it is spooky at night, but during the day you have to make trade-offs about what you're doing because there certainly are enemies in the environment that will attack you and stop you from scavenging or returning back to your base with supplies.
What's it like working with Unreal Engine 4?
Jessen: It's a new engine. It's been so good for the project because the new version of Kismet (the Unreal Engine scripting tool –Ed.), called Blueprint, allows us to put a lot more power into the hands of artists and designers. Before Unreal Engine 4, we had a programmer that had to do every little thing for polish and bug-fixing and all of that stuff. Now a programmer can just set it up and then hand it off to our artists to change the sounds, to change the animations and even link them together, so that the blueprints, themselves, work together.
For example, one of the things that we did was we set up [the Fortnite sky] so that it ran on a day and night cycle. Depending on the time of day, there would be different colors that would be displayed in the environments. Different locations of the sun or the moon in the sky would create different lighting scenarios. We linked that to other items in the other blueprints that were already in the game, like the streetlamps that would turn on automatically when the sun fell, or the clock that actually tells the actual time of the game in the environment. Those are things that all of the artists could make themselves once the original Blueprint was set up.
What role will gamers ultimately have in how this game progresses moving forward?
Jessen: Fortnite is going to be a living project, so this is really a game that we're making for the gamers. We're going to be very much looking at feedback that we get from the community and the people who are playing it and react to that feedback. We're going to make more of things that you're going to want to do in our game and that's a big part of why we're trying to appeal to all of these different types of personalities. We want people to play together and work together. Depending on what really resonates with people, we're going to make more of that. We're hoping to get out as quickly as we can and start getting feedback from people as soon as possible. That's why the PC is such a great platform to allow us to create and expand on the game as we get player feedback.