At a Glance
Expert's Rating
Pros
Smart data entry systems and fields
Great narrative reports and partial trees
Cons
No option to work offline
Need to upgrade to Premium to view full tree
Our Verdict
Grow your family tree to include a wealth of personal details with Family Tree Builder.
Genealogy software Family Tree Builder is a helpful research tool for people who find it a daunting task to figure out the best way to link together all the information they collect about relatives through letters, old documents or photographs.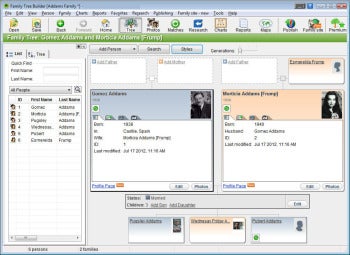 Like most family tree software, Family Tree Builder can import GEDCOM files with no problems, and it also offers to import Family Tree Legends, Family Tree Maker, Personal Ancestry File (PAF), and Legacy Family Tree files. I was unable, however, to import Family Tree Maker files (version 2012 failed; older versions only imported a partial database), so I would recommend sticking with GEDCOM.
You also may use Family Tree Builder to start from scratch, which the smooth, well thought-out UI makes easy and intuitive. Either way, growing a family tree with Family Tree Builder is very similar to that of Family Tree Maker 2012 ($40). Family Tree Builder's process makes sense: You start anywhere on your tree and add parents or children as you go. There are a few features in Family Tree Builder I prefer over Family Tree Maker: You can include both maiden names and married names in Family Tree Builder, which eliminates the confusion when researching your extended family; there's also a deceased checkbox.
Much like Legacy Family Tree (free), you can easily add images, documents, and video/audio to your Family Tree Builder database. In addition, you can associate photos to multiple people, allowing you to upload a group image only once and include it in multiple database entries.
Family Tree Builder also allows you to add religious names, nicknames, former names, and aliases, plus name citations and notes very simply. At the click of an icon, you can add a virtual cemetery for deceased relatives that can include images, documents, and notes. There are no genogram icons: if you are more interested in genograms, try GenoPro ($50, with 14 day free trial), a family tree creation tool with great genogram capabilities.
Unfortunately, Family Tree Builder will not display your full family tree unless you upgrade to the Premium version ($6.25 per month, billed annually) or Premium Plus ($9.95 per month), but there are still many narrative reports and visual charts you can create with the free version of the software, and they are all customizable and attractive.
The research in Family Tree Builder works exactly like Family Tree Maker: if there's an online entry that seems to match your entry, it will display an icon. Plus Family Tree Builder automatically generates a research to-do list under the research menu, listing the family members that have possible online matches you have yet to review. Family Tree Builder isn't able to access the ancestry.com databases (which are very comprehensive), so I didn't get nearly as many research hints as with Family Tree Maker's 14-day trial to ancestry.com. In fact, all of my research clues led to www.worldvitalrecords.com, which requires a $150 annual subscription. Unfortunately, there's no option to go offline with Family Tree Builder.
Family Tree Builder will automatically post your family tree online as your own Family Site, the benefits of which are thoughtfully described in a 13-window slide show. Every time you close the program, it will automatically back up online, unless you decline, but there are also Save/Save As and Export as GEDCOM menu items, which makes it easy to make your own back-up if you are not ready to levitate your tree into the cloud.
If you do decide to use Family Tree Builder's online service, not only can you use the free mobile apps (iPhone, iPad, and Android) to access the Family Site, but you also can choose to keep your tree private or publish your tree to compare yours to others (although you need to upgrade to the Premium Versions to merge data from other trees.)
Unlike GenoPro, Family Tree Builder doesn't create an HTML file that you can upload anywhere, rather you create an account at myheritage.com, a blog-like site. Photo tagging, statistics reports, family events and calendar tool, and profile pages for each family member are free for online users up to 250 family members or 250 MB of storage; if you exceed the number of people or storage limit, you'll need to upgrade to Premium or Premium Plus, both of which also give you access to enhanced Family Tree Builder, which includes advanced mapping tools, Smart Research, and ability to view and print a full family tree.
Nobody said tracing your family was going to be cheap or easy, but Family Tree Builder tries to make it so. This is a great program to start collecting all your data together—it's easy and fun compared to many others. If you need help with research, you're going to have to pay for a subscription anyway, but at least you're not paying for the database too with Family Tree Builder.
Note: The Download button takes you to the vendor's site, where you can download the latest version of the software.
—Clare Brandt