At a Glance
Expert's Rating
Pros
Great reports
Easy to add extended information including images
Unlimited database entries and files
Cons
Difficult user interface
Many features prompt an upgrade to Deluxe
Separate program for charting family trees limited
Our Verdict
Catalog detailed information about your extended family with Legacy Family Tree Standard Edition.
Legacy Family Tree is a free software tool that can help fill in the gaps in your background and dig up your roots whether they're Jewish, Mormon, Catholic, atheist, or any other denomination.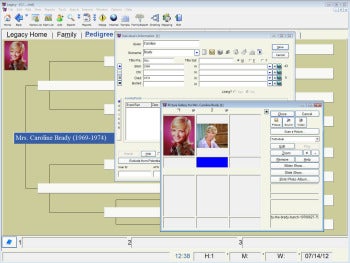 When you begin to create a new family file in Legacy Family Tree, you're given options to import a Personal Ancestral File (PAF; a free family history organization program from The Church of Jesus Christ of Latter-day Saints), Ancestral Quest File, or a GEDCOM file. You can also start from scratch, which will bring you to a dialog asking if you are a member of the LDS Church (also known as Mormons). Legacy Family Tree isn't being nosy; it's linked with the FamilySearch online database, which is currently restricted to registered LDS members.
There are other places too, where you'll notice a connection with the LDS Church. The Temple button, for example (used for church members to add LDS Ordinances) and many reports. All of this appears by default, which makes Legacy Family Tree a great tool for LDS Church members, but may be mildly irritating for users who are not.
If you choose to use the Legacy Guided Startup Wizard to enter names, it's much like GenoPro ($50, family tree and genogram maker), or Family Tree Maker ($40, an ancestry research tool), in that it's easy to add all the pertinent information, names, birth date, birth place, sex, spouse and parents—except that you need to start with yourself. If this is not where you want to start, try creating an empty family file (an option within the Guided Start) and go from there.
Legacy Family Tree has a few UI issues, which make it seem like it's harder to use than it actually is. The main screen is sized for the vision impaired, but the popup windows where you enter data are tiny by default. Fortunately, you can resize the windows and the text also resizes, which is a great relief.
Once you've taken some aspirin or resized the windows, Legacy Family Tree is ready to show you its strength: all of the information you have about a certain member of your family can be entered in once place—in the Individual's Information window. Much like Family Tree Builder, this includes names, date, picture/movies, places of residence, nicknames, and pretty much anything else you can think of. I love that there's no limit to the number of images you can add (it's not just one headshot like in Family Tree Maker), and that all the information is at your fingertips, plus it's offline, so you don't need to worry about privacy.
Legacy Family Tree has the upper hand on a lot of programs: it includes a radio button for deceased family members for which you don't know a date of death (Living? Yes or no), and you can easily enter pseudonyms, prior names, and nicknames which will show up in your reports. There are also fields for cause of death and genetic information, which is important for some users researching hereditary diseases or afflictions. Although if you're looking for a program that will specifically help you make genograms, try GenoPro ($49, with a free 14-day trial, GenoPro focuses on tracking medical history and personalities within a family).
Although included in menus, many features—including Calendar Creator, Event Report, Family Picture Tree, Forms Center, Geolocations, and Publishing—are not included in the free version of Legacy Family Tree. For these and other features, you'll need to upgrade to the $30 Deluxe Edition. But there are still some interesting reports you can pull, including written reports of ancestral information, Timeline, and Pedigree Charts. Plus, Legacy Family Tree doesn't just focus on past history: You can create a calendar that lists your relative's—however distant—birthdays, and name tags that include parentage (great for family reunions).
To create family tree charts with Legacy, you need to use the included (free version) of Legacy Charting. It's a separate program that's part of the Legacy download, and opens with the click of a button. It's a great, modern-looking (especially compared to Legacy Family Tree) program that will create charts in multiple formats: Tree, Bow Tie, Fan, Hourglass, or DNA charts—but not a complete family tree. Unfortunately, the free version will only chart four generations, so it's pretty limited. To get a full version, you need to (you guessed it) upgrade to Legacy Family Tree Deluxe. (Note: the Deluxe version also will not display a full family tree.)
Unless you have somewhat limited goals and expectations, Legacy Family Tree standard edition is really a trial of the $30 Deluxe version. But that's okay, because as a trial it's very complete. Plus there are no limitations to saving your work (even as GEDCOM files), so if and when you decide to upgrade, all your databases are all there in their entirely.
Some users may be bothered by the close connection to any given religion, and the controversy surrounding LDS Ordinances. For anyone starting out on the daunting task of retaining and cataloging information about an extended family, though, Legacy Family Tree is a useful free tool, whatever your religion.
Note: The Download button takes you to the vendor's site, where you must register to download the latest version of the software.
—Clare Brandt