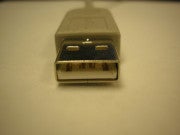 The USB 3.0 Promoter Group has approved a new method of power delivery that provides for up to 100 watts over a USB cable — enough to power your laptop, monitor and more.
USB Power Delivery is approved for both USB 2.0 and 3.0, which means that we may soon be able to say goodbye to the clunky laptop power brick and mishmash of proprietary device chargers. Power Delivery allows for intelligent power management to make sure devices meet the specs, send power back and forth, and ramp power delivery up or down as needed. (If you're curious, SemiAccurate has the full details on the new architecture and technical details of the new approved specification.)
We're already used to charging our tablets and mobile phones with USB, and now finally Universal Serial Bus may be universally used to power everything. Imagine going on a trip with your laptop and other gadgets and just carrying USB charging cables to power them all.

This is just still a specification, though. While backward compatible with previous USB specs, Power Delivery will only work with new hardware — if and when hardware manufacturers build in the new ports. It usually takes a while to go from specification to actually seeing the technology in real life, so we'll have to be patient until at least the middle of next year before we'll see the compatible devices, Brad Saunders, the chairman of the USB 3.0 Promoter Group, told Venture Beat.
You'll probably also need new cables that will support this high-power delivery, but for a compact and truly universal charging solution, it'll be worth it.
Follow Melanie Pinola (@melaniepinola) and Today@PCWorld on Twitter