At a Glance
Expert's Rating
Pros
Nice design and output quality
Mobile, including battery and Bluetooth
Cons
Rather slow performance
Expensive ink
Our Verdict
This inkjet MFP gives you portable printing and scanning in a cleverly designed but expensive package.
The price ($400, per HP) of a ticket to the HP Officejet 150 Mobile All-in-One show is steep, and it gets steeper when you take ink costs into account. If you're willing to ante up, though, you get a unique, cleverly designed, easy-to-use color inkjet multifunction printer that has Bluetooth connectivity for printing from mobile phones and devices. The unit's printing and scanning output are top-notch.
The Officejet 150 Mobile connects via USB or Bluetooth. Perhaps there wasn't room, but we wish that it supported Wi-Fi for AirPrint, ad hoc networks, and the like. Setup is easy, and the scanning and Iris OCR software are competent. HP renders the print dialog area nicely, providing options for manual duplexing as well as multipage and booklet layouts.
The Officejet 150 Mobile is approximately 14 inches wide by 7 inches deep by 3.5 inches tall, so you can fit it into larger luggage, but not into a briefcase or laptop bag. It's not particularly light, either, at 6.8 pounds with battery. The silvery top panel pops open and leans back to create the 50-sheet rear vertical paper feed, and to reveal the control panel and the scanner. The control panel, which tilts upward for use, includes a 2.36-inch touchscreen with a resistive design that requires slight pressure to issue commands. The scanner consists of a slot with a few markings around it.
Describing an MFP's paper-handling features as fun may seem odd, but watching the Officejet 150 Mobile make a copy is a treat. To begin, you place the original face-down in the scanner feed. Press Copy on the touchscreen, and the original feeds up, sliding over the paper that the machine draws down from the rear feed to produce your copy. It's a very clever but limited design: the scanner takes only one sheet at a time, and printed pages exit from the front of the unit, with no output tray to catch them.
Calling the Officejet 150 Mobile slow is putting it mildly, though you can get considerably faster performance (and lower quality) in draft mode when you need it. At the MFP's default settings, monochrome pages exit at 4.9 pages per minute on the PC and 4.6 ppm on the Mac. Snapshot-size, 4-by-6-inch photos print at 2.7 ppm on plain paper and 0.7 ppm on glossy stock. Full-page glossy photos crawl out at 0.2 ppm. Color copies exit at about 1 ppm. Given its sheet-fed design, the machine doesn't offer scan previews, but higher-resolution color scans take a very slow 70 seconds.
Offsetting its slow performance is the Officejet 150 Mobile's excellent output quality. Text is sharp, clear, and black, and monochrome gradients are handled quite nicely. Color graphics look a tad washed out when printed on plain paper, but the high contrast ratio works well on glossy paper.
Ink is somewhat pricey, but cartridge yields are generous. One compatible cartridge is the HP 98 black, which costs $26 and lasts for 440 pages, which works out to 5.9 cents per page. But the HP 94 black cartridge has the same price and delivers a yield of 500 pages (a rate of 5.2 cents per page).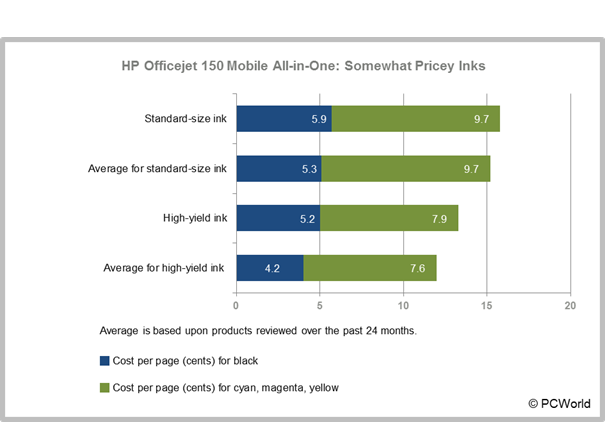 The two tricolor cartridge options are easier to differentiate: The HP 95 costs $32 for 330 pages (9.7 cents per page); and the HP 97 costs $44 for 560 pages (7.9 cents per page). The cost of printing a four-color page using the cheapest 94 and 97 ink cartridges is 13.1 cents–a little higher than the average. For even better photo quality, you can swap out the regular black cartridge for the HP 99 photo cartridge, which uses light cyan, light magenta, and photo black to create a richer palette. It costs $32 and lasts for about 130 photos, or 24.6 cents per photo.
With the Officejet 150 Mobile All-in-One you get style, a clever design, and good output quality. It'll look cool when you set it down in front of a client, and it's the only truly portable printer/scanner on the market. But it costs $400, and the ink isn't cheap either. If you want a portable printer, but can do without the scanner and copier, check out the HP OfficeJet 100 Mobile or the nearly identical Canon Pixma iP100 (which we've not reviewed).
Editor's note: This review was corrected to reflect that the Officejet 150 Mobile All-in-One does not offer HP ePrint for sending print jobs remotely via e-mail. PCWorld regrets the error.