If tablets are the rising stars of personal computing, then Apple's iPad burns most brightly. But now, Microsoft is preparing to crash the party in spectacular fashion with a pair of tablets that represent its first-ever Windows hardware.
Microsoft wowed the tech-savvy audience, including me, with its introduction of Surface for Windows RT and Surface for Windows 8 Pro tablets. (For brevity, I'll refer to them hereafter as Surface RT and Surface Pro.)
The folks in Redmond have spared no detail in reconsidering what a tablet can, and should, be. But what caught our collective attention was Microsoft's end-to-end vision, as seen in its design choices. This wasn't just another humdrum tablet that Microsoft happened to introduce; Surface feels stylish, fresh, and exciting.
What Is Surface?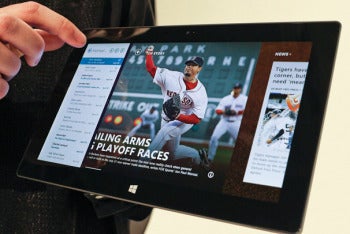 First of all, Surface RT runs on Nvidia's ARM-based Tegra 3 platform and requires all-new apps that use the Windows 8 "Metro" interface; the Pro version uses Intel's Core i5 and runs conventional Windows programs (as well as Metro apps).
Microsoft says that Surface RT will be available when Windows 8 launches; the OS ships October 26. Surface Pro will follow a few months later.
In taking the step to sell its own tablet hardware, Microsoft ensures that a flagship Windows 8 tablet will stand ready to compete against Apple's iPad and the army of Google Android tablets, most of which have failed to find an audience.
Based on Surface's specs and my hands-on experience with a prototype of the Surface RT tablet, I expect Microsoft's entry to leapfrog the largely undistinguished Android competitors and potentially pose a threat to Apple's iPad hegemony.
Surface Impressions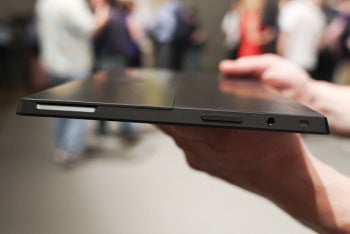 First off, Surface has a striking look. The exterior magnesium alloy surface is silky smooth to the touch and finely finished; and the tablet feels solidly built and well balanced, whether held in one hand or two. While I wish it were slightly slimmer, its angled edges make it fairly comfortable to hold.
Microsoft's thoughtful approach to design addresses many shortcomings common to today's tablets. For example, rival tablets require you to buy a case with a kickstand or some other device if you want to prop it upright to share content or watch a movie; Surface comes with a sturdy built-in kickstand.
The kickstand is a brilliant stroke of design—a practical yet stylish flourish we wouldn't expect from Microsoft. I lifted the tablet up and held it by the kickstand almost automatically, without considering potential consequences, but I had nothing to fear: The kickstand's unique hinge felt as stable as bedrock.
Another significant step: For the manufacture of the Surface screen, Microsoft is using optical bonding, which makes text clearer, minimizes glare, and improves contrast. Bonding is expensive, so few tablets use it; Google's 7-inch Nexus 7, Acer's 10.1-inch Iconia Tab A700, and Barnes & Noble's 7-inch Nook Tablet are the three notable exceptions. Based on my time with the 10.6-inch Surface prototype, the display benefits greatly from Microsoft's investment in this pricier process.
The company has also reimagined how tablets could be­­come better productivity tools, starting with its clever Type Cover and Touch Cover. Whereas other manufacturers require a separate case with a keyboard or a dock that turns the tablet into a netbook-like clamshell (see the Asus Transformer Pad series of An­­droid tablets—the Infinity TF700 is the most recent—or Fujitsu's Windows 7 Stylistic Q702, due in this third quarter), Microsoft's "smart" cover provides the well-integrated tablet keyboard you've dreamed of. Versatile, lightweight, and functional, the Type Cover has mechanical keys and a multitouch clickpad to delight touch typists everywhere. The Touch Cover comes in a number of bright, cheerful colors, as well as the more staid black, and has flat, pressure-sensitive keys that detect when you are typing. If you flip the cover around to the back, the built-in accelerometer turns off the keyboard (a nifty trick). The Touch Cover is thin, just 3mm, and snaps into place with a sturdy clink, thanks to magnetics and aligning components that keep it in place. Because of this design, the cover feels more secure than Apple's Smart Cover, which can easily slip out of place.
The Takeaway on the Two Surfaces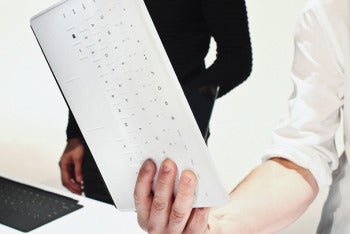 The keyboard options, coupled with the polished design and Windows pedigree of the tablets, describe devices that could give both existing tablets and traditional clamshell ultraportable laptops a run for their money. However, "could" is the operative word here. Until we know more-precise details about specs and pricing, predicting how well the two Surface models will compete in the marketplace is largely guesswork.
I do suspect that, initially at least, the Surface RT is unlikely to be an iPad killer­. Microsoft didn't reveal Surface's price at the launch event. Also, apps are paramount to tablet buyers, and consumers are unlikely to flock to Surface RT until Windows 8 gains compelling Metro apps.
Surface Pro, meanwhile, will challenge the current crop of laptops and Ultrabooks—and there it may well win. Why purchase a classic clamshell-style laptop if you can get a tablet that quickly and elegantly converts into a laptop when you need one—all without sacrificing performance, interoperability, or functionality? The big question is whether consumers can manage with a 10.6-inch display as their laptop screen; for many, the convenience of a tablet/laptop hybrid may be worth the downside of viewing content on a smaller screen.
Next: Four unanswered questions about the Surface tablets.
Four Unanswered Questions
Many unknowns are still to be revealed about Surface. The stakes are high: Market research firm NPD DisplaySearch, for instance, estimates that by 2016 tablet shipments will exceed laptop shipments. Windows 8 tablets could play a significant role in helping to boost tablet sales.
How Much Will It Cost?
Microsoft didn't reveal what Surface's pricing would be at launch; rather, the company said that the Windows RT version would cost about the same as comparable tablets, and that the Pro version would target Ultrabook pricing. Those generalities leave a lot of wiggle room.
Consider the Surface RT, which will have 32GB and 64GB versions. Acer's Iconia Tab A700, an Android competitor, costs $450 with 32GB of storage; the Asus Transformer Pad Infinity TF700 costs $500, also with 32GB of storage. Apple's third-generation iPad is $499 for 16GB, and $599 for 32GB.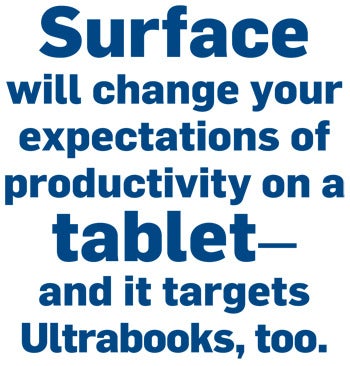 So, realistically, Surface RT must come in under $500 to be competitive. And even then, Microsoft will face price-pressure challenges from 7-inch tablets, including Google's Nexus 7 ($249 for 16GB) and a rumored 7-inch Apple iPad that, if it does ship, would be priced competitively with the Nexus 7. Those lower prices will certainly affect what consumers expect to pay for a tablet, regardless of a larger screen size.
Pricing is equally unclear for the Surface Pro. Ultrabooks, with 128GB to 320GB of storage, are priced at $750 to $1100; 64GB Windows 7 tablets range from $750 to $1099. If Surface Pro with 64GB can hit $800, it will be reasonably competitive. After all, Apple's 64GB iPad costs $699 today. But if Surface Pro hits $1000 or more, Microsoft's tablet may seem too pricey.
What Kind of Battery Life Can We Expect?
At its launch event, Microsoft declined to offer battery life estimates. All-day computing remains the holy grail of tablets, and some competitors are getting closer. For instance, in PCWorld's video-playback test, the Apple iPad lasted 10 hours, 46 minutes; the Google Nexus 7, 10 hours, 10 minutes; the Acer Iconia Tab A700, 8 hours, 11 minutes; and the Asus Transformer Pad Infinity TF700, 7 hours, 58 minutes.
However, even if Surface Pro can't match those numbers, it needs to stack up well against Ultrabooks, which average around 6 to 7 hours of battery life, and existing Windows 7 tablets, which clock in at 4 to 6 hours of battery life.
Microsoft, we hope, has some battery-stretching secrets up its sleeve. Windows 8 has power-management features to help maximize battery life by optimizing how apps, the OS, and hardware work together. A "Connected Standby" mode lets the machine enter a low-power state, while still receiving up­­dates; and Windows 8 Metro apps are designed to take advantage of this mode. Today, though, Connected Standby works only with ARM processors and with Intel's still-forthcoming system-on-a-chip processor. Current Intel Ivy Bridge Core i3, i5, and i7 CPUs do not support Connected Standby.
Will Surface Have 3G/4G Connectivity?
Microsoft hasn't yet mentioned Surface support of mobile data options; carrier partnerships may still be in development. Or perhaps Microsoft will skip integrated mobile broadband for the relative simplicity of a Wi-Fi-only version. You can, of course, use either Surface model over Wi-Fi with a mobile hotspot, or with a USB data dongle, for that matter.
When Can We Buy It?
Surface RT should be available when Windows 8 launches in late October. The Surface Pro model is scheduled for approximately three months after the RT version ships, meaning it should be available in early 2013.