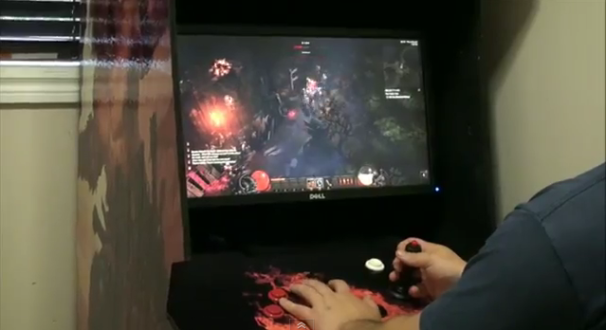 Arcades were always a big part of my life growing up. Even today, I still find it hard to pass up the opportunity to spend excessive amounts of coinage in the local establishments. Unfortunately, there's only so much retro gaming I can take. After the first fifteen years or so, things start to get stale.
Luckily for me, there are people like Dave Niewinksi in the world. A Gauntlet fan, the inventive DIYer actually built an old-school arcade machine for Diablo 3–and a pretty spiffy one at that.
Constructed out of plywood and emblazoned with decals borrowed from Blizzard and cgtextures.com, Dave's arcade cabinet uses a VB.NET-powered program to get the physical controls and the game itself to work together. According to the write-up on his website, Dave made no modifications to the game files as "everything works outside of the game."
Most of the buttons in the arcade cabinet serve dual purposes. As Dave explains:
"Clicking on a button might equate to a left-click in game, or skill number 1 if clicked in conjunction with another button. The joystick is the same. Moving the joystick moves the mouse around the screen so you can target individual monsters/objects. Holding the button on the top of the joystick moves the character around without changing the position you were targeting. This allows you to "run and gun" as you're always aiming in the same direction, but can run in a different direction."
While I can see this working flawlessly with Normal mode, I can't help but wonder exactly how the controls will hold up when you're stumbling through Inferno mode. If the controls pass the trial by fire, Blizzard should probably consider him inviting him to their next publicity event.
[Dave Niewinski via Hack a Day]
Cassandra Khaw is an entry-level audiophile, a street dancer, a person who writes about video games for a living, and someone who spends too much time on Twitter.
Like this? You might also enjoy…
Get more GeekTech: Twitter – Facebook – RSS | Tip us off