Samsung Electronics reported strong growth in sales and profits in the second quarter, driven primarily by its mobile phone business.
The company said Friday that net profit was up 48 percent to 5.19 trillion won (US$4.5 billion) in the quarter from a year earlier, while its revenue was up 21 percent to 47.6 trillion won.
Its mobile phone business was the highest performer with revenue of 20.52 trillion won, up 75 percent year-on-year. The company said its revenue and profit in mobile grew over the previous quarter due to an improvement in its product mix, and an increase in sales of its high-end smartphones.
Research firms IDC and Strategy Analytics said Samsung's shipments of smartphones in the second quarter were nearly double that of closest competitor Apple. Samsung shipped 50.5 million smartphones in the quarter, more than double from a year ago, compared to 26 million by Apple, according to Strategy Analytics. Samsung was also the largest vendor of mobile handsets ahead of Nokia, according to both research firms.
Competitor Apple said earlier this week it sold 17.0 million iPad tablets in the quarter ended June 30, up 84 percent from the same period last year. Sales of its iPhone also increased by 28 percent.
Samsung and Apple are locked in patent disputes in many countries, seeking to block sales of products in various markets including the U.S. and Europe.
Hot Launches Fuel Growth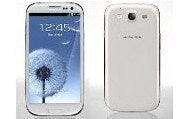 The South Korean company launched the Samsung Galaxy III smartphone in May, and said it has seen "solid sales" of its Galaxy Note. Its feature phone shipments decreased from the previous quarter in line with industry trends, it said.
The company saw its consumer electronics revenue grow by 7 percent, and display panel business rise 16 percent, but its semiconductor revenue dropped 6 percent over the same quarter last year.
It said that there had been strong demand for panels for tablets, even as demand for panels for TVs slowed because of the economic crises in Europe, and delays in purchases in China because of a new subsidy policy. The semiconductor business witnessed weak PC demand even though demand for mobile devices was relatively stronger.
Samsung said demand for smartphones will pick up in the current quarter as a diverse range of products are likely to be launched by vendors. Apple is for example rumored to be planning the launch of a new version of its iPhone later this year.
John Ribeiro covers outsourcing and general technology breaking news from India for The IDG News Service. Follow John on Twitter at @Johnribeiro. John's e-mail address is john_ribeiro@idg.com