Facebook CEO Mark Zuckerberg cast doubt Thursday on the notion that the social network would be introducing its own smartphone any time soon.
It "wouldn't make very much sense" to build a Facebook phone he told analysts on a conference call following the release of the company's earnings for the June quarter.
"Facebook is the most-used app on basically every mobile platform," he explained. "So when we think about what we want to do right now, we want increase the depth of the experience in addition to just growing users."
"We want to not just have apps that people use but also be as deeply integrated into these systems as possible," Zuckerberg added. "We want to support a development ecosystem where other apps can build on top of Facebook."
"That's why you'll see us do things like support Apple and the iOS integration that they wanted to do," he continued. "There are lots of things that you can build in other operating systems as well that aren't building out a whole phone, which I really don't think would make very much sense for us to do."
Rumors Persist
Despite denials by Facebook that it will introduce a branded smartphone, rumors continue to persist that such a device is in the works. According to a Bloomberg report, the device would be produced by HTC, include a "modified" operating system, and be introduced next year.
The siren song of hardware has been hard to resist in the tech industry. Google has entered the business with its Nexus phones and tablet; Amazon, with its Kindle line; and even Microsoft has thrown a chip in the ring with its Surface tablets.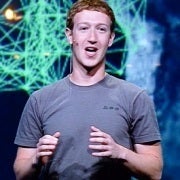 Zuckerberg, though, seems intent on keeping Facebook out of the hardware business—at least for now. "We believe that all these consumer products, even more than consumer products, that people use will become social over time," he said, "but we can't build all those things ourselves so we focused on building this platform."
However, he acknowledged that "over time, it might make sense for us to build more of these things ourselves."
Facebook became a publicly traded company in May. In its first quarter as a public concern it had revenues of $1.18 billion and lost $157 million, or 8 cents per share.
Follow freelance technology writer John P. Mello Jr. and Today@PCWorld on Twitter.