Back-to-school sales are cropping up everywhere, so it must be that time of year again. Say good-bye to summer and hello to learning with the following school-oriented fonts. All are either free or have a free demo available for personal use, so you can cross one thing off your back-to-school savings list. From preschool through college, we have you covered.
(For links to all of these downloadable fonts in one convenient list, see our "Five Free Fonts Make Back-to-School Fun and Frugal" collection.)
Kids Alphabet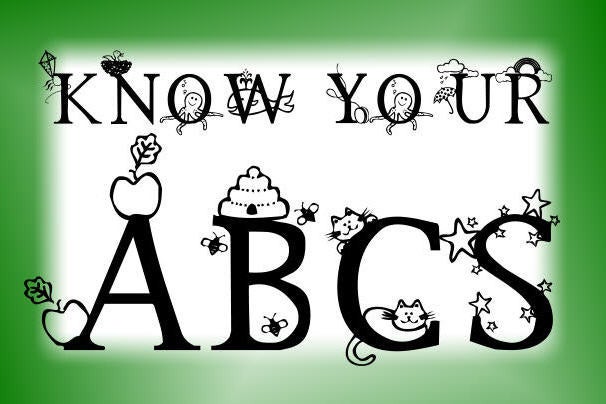 Learn your ABCs with the cute Kids Alphabet from House of Lime. This TrueType font renders uppercase letters regardless of whether you type in all-caps or lowercase, and it has no punctuation (and therefore no apostrophe in the name of the font itself). Each glyph incorporates a picture that represents the letter. Standard beginning-sound images include an apple, a cat, a dog, a queen, a violin, and a xylophone; among the more-unusual ones are a ghost, a jack-in-a-box, a rainbow, and stars. Each one is humorously sketched—look for the elephant being chased up the letter E by a tiny mouse—and each image fits perfectly with its corresponding letter, also a sketched-style glyph.
A solid display font, Kids Alphabet needs to be quite big, at least 48-point, to show off all the detail. It's also unsuitable for anything longer than a short word or two since the kerning is irregular, thanks to frogs taking flying leaps, umbrellas catching errant raindrops, and zebras running out from behind the letter. Embedding is restricted in the free version. The commercial version, available for a fee, includes full embedding rights; contact House of Lime for information. For personal Web use, the license requires that you include a link back to House of Lime somewhere on your site. A Mac version is available as well.
Penmanship Print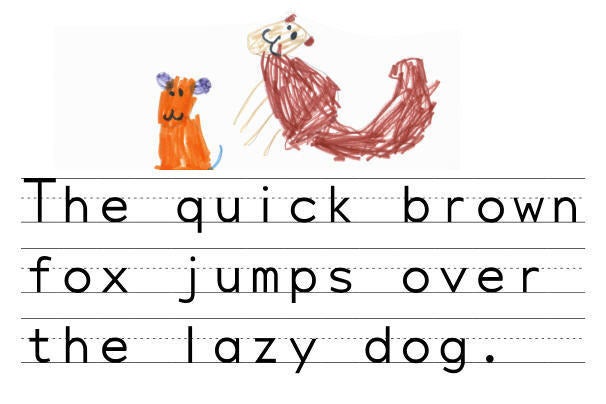 Helping your children with their handwriting skills has never been easier, and now you don't need perfect printing to do it. Penmanship Print, a TrueType font designed by Richard Douglas, provides a plethora of perfectly printed letters on a background of three-line guides. The glyphs cover the complete keyboard, plus a number of special characters such as the diaeresis/umlaut and symbols for pounds sterling, degrees, copyright, and yen. (Everything a kindergartener could possibly need!)
Penmanship Print's ascenders and descenders are shorter than you might expect, but with this font I think that neatens up the overall look. The kerning is wide but perfectly spaced, making it easier to use Penmanship Print at smaller sizes: You can bring it down to as small as 12-point to label your child's school stuff, for instance, or use it at larger sizes for writing and reading practice. For me, the guidelines alone are worth the download time; the grave-accent key creates an unbroken handwriting guide that you can use in place of a space or without any text to create composition pages to spec. Penmanship Print is free for personal use; for commercial use (or for full embedding), contact Richard Douglas.
DK Crayon Crumble Demo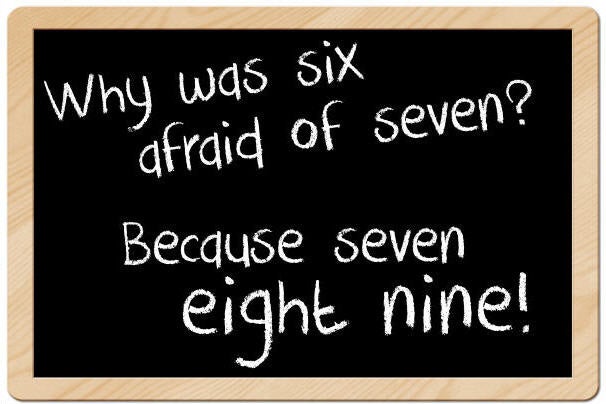 The True Type font DK Crayon Crumble from David Kerkhoff immediately takes me back to the days of chalkboards. Kerkhoff has used an almost-handwritten style—with slight variations in baseline and texture to indicate different amounts of hand pressure—and neatened it up to the point of perfection. (Or maybe he just has perfect handwriting.) DK Crayon Crumble includes all of the keyboard glyphs, plus many special characters. The lowercase a is single-story (rather than letterpress style), which makes it especially appropriate for early readers and writers. It includes accented letters, making it suitable for scrawling in French and Spanish as well as in English.
DK Crayon Crumble is stylish even though it doesn't include any fancy glyphs. In fact, its lack of unusually executed letters makes it especially legible. A fluid, informal subhead or display font, DK Crayon Crumble gets hard on the eyes at 18-point or smaller. The demo is free for personal use; for commercial use, you must purchase the full version for $15.
Learning Curve 2.0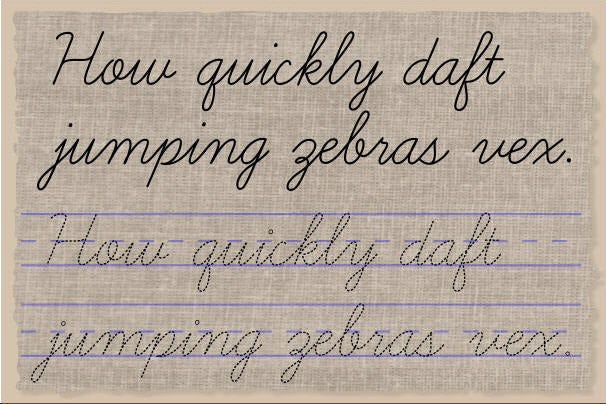 In Learning Curve 2.0, from designer Jess Latham at Blue Vinyl, you'll find two similar fonts—one solid, one dashed—in both TrueType and OpenType formats. Both versions demonstrate the kind of beautiful cursive handwriting you probably haven't used since elementary school. Learning Curve includes all keyboard glyphs and more special characters than your grandparents ever used. In addition, on both versions of Learning Curve, the backslash provides three-line writing guides. If you want to see the Learning Curve text over the writing guide, you'll need to use a drawing program that can layer the two; otherwise, use the guides to copy the font and refine your handwriting.
Although Learning Curve is certainly legible at 12-point, it's probably one to reserve for subheads or display use. A comfortable tracing size for Learning Curve Dashed is about 36-point, depending on your skill. Even in this age of communicating via digital devices, our handwriting implies much about our personality and cognitive abilities, and the Learning Curve font makes it easy to improve your penscript. Learning Curve is free for personal use; for commercial use, contact Jess Latham. A Mac version is available as well.
Universal College Demo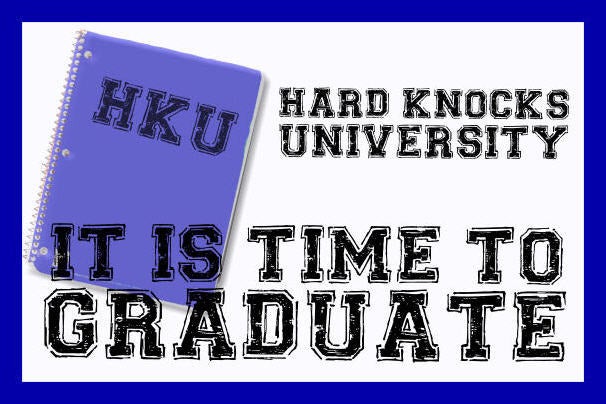 Whether you're attending Yale or the School of Hard Knocks, Universal College will make sure everyone knows it. In Universal College, a True Type font from Fonts Cafe, the ubiquitous college-logo font gains a notebook-sketched look, appearing a bit rough around the edges. The demo version contains only uppercase letters and offers no lowercase, numbers, punctuation, or special characters. Fortunately, the kerning is spot-on, and even though the horizontal edges of the glyphs can waver, the height of the letters does not. Since Universal College is firmly a display font, using it at 36-point and larger is fun (and at that size, typing in all caps is somewhat cathartic). Universal College Demo is free for personal use; the complete version costs $39 (for commercial use) from Fonts Cafe.
From classroom displays to yearbooks to practical worksheets, these fonts will help you digitize and streamline your classroom, and thrill your students throughout the year.