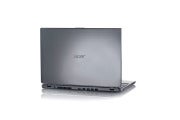 Windows 8 Ultrabooks and convertible tablets will soon sport new sensors, which will give users more ways to interact with their laptops, according to an Intel blog post Friday.
There are five sensors, including a compass, accelerometer, gyroscope, GPS, and ambient light sensor. All five of the sensors are required for a convertible tablet to be branded as an Ultrabook, and three of the five are recommended for a regular laptop branded as an Ultrabook.
Here are the five sensors:
Compass (optional for Ultrabooks): Useful for showing which direction you're facing, so you can automatically get details about landmarks in front of you, for example.
GPS (recommended for Ultrabooks): Pinpoints your location so your device can deliver mapping and other relevant information.
Accelerometer (recommended for Ultrabooks): Detects motion and gravity–often used to protect the hard drive in case a laptop is moved or dropped. Can also give users information (e.g. travel time) based on movement.
Ambient Light Sensor (ALS) (recommended for Ultrabooks): Automatically detects lighting conditions so your laptop can adjust screen brightness based on the surrounding atmosphere.
Gyroscope (optional for Ultrabooks): Similar to the accelerometer–detects rotation and the rate of rotation. Many games make use of this sensor for motion control.

Many of these sensors have previously been built into laptops–the Samsung Series 9, for example, has an ambient light sensor, and accelerometers have long been lifesavers for hard drives plunging toward the ground.
Still, it's interesting that Intel is pushing more tablet- and smartphone-like sensors for Ultrabooks–and convertible tablets will get all of these sensors. Once these sensors become ubiquitous, we should see many more kinds of applications that makes use of these technologies.
Currently, smartphones and tablets are more capable than laptops when it comes to this smart detection. But the gap may be closing quickly with this next generation of Ultrabooks–it's really up to Ultrabook manufacturers to decide which sensors get put in their laptops. You can find out which sensors are in your current laptop by looking under the "Sensors" section in the Windows Device Manager, according to Intel's instructions.
Follow Melanie Pinola (@melaniepinola) and Today@PCWorld on Twitter