Learning Curve 2.0, from designer Jess Latham of Blue Vinyl Fonts, actually includes two similar fonts—one solid, one dashed—in both TrueType and OpenType formats. Both demonstrate the beautiful script handwriting you probably haven't used since elementary school. Learning Curve (free for personal use) includes all keyboard glyphs, more special characters than your grandparents ever used, plus the back-slash on both versions of Learning Curve provides three-line writing guides.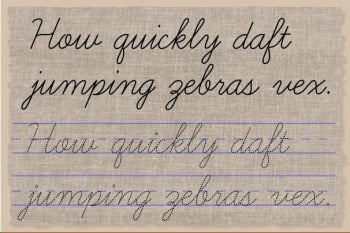 If you want to see the Learning Curve text over the writing guide, you'll need a drawing program that can layer the two; otherwise, use the guides to copy the font and refine your handwriting. Although certainly legible at 12 point, Learning Curve is probably one to reserve for subheads or display use, and a comfortable tracing size for Learning Curve Dashed is about 36 points, depending on your skill. Even in the age of communicating via digital devices, our handwriting implies much about our personality and cognitive abilities. Learning Curve font makes it easy to edify your penscript.
Learning Curve is free for personal use; for commercial use, contact Jess Latham. A Mac version is available as well.
Note: To use this font, unzip the folder and install the .ttf file in the folder C:WindowsFonts. Note that the font won't appear in your applications until you close and re-open it. For more guidance see How to Install and Uninstall Fonts in Windows.
—Clare Brandt