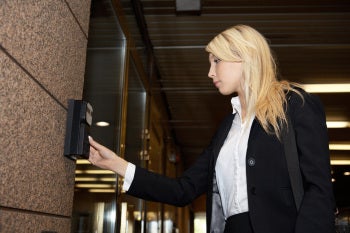 We talk frequently about cybersecurity, discussing how to protect your business's data by using strong passwords, deploying antimalware utilities, and keeping your computers safe with the latest patches and updates. This time, the focus is on premises security, or protecting your business's physical assets from burglary and vandalism.
The best cybersecurity measures in the world are useless if a thief breaks into your office and makes off with your computers.
You won't lose any digital data if you've followed our advice to back up your computers to secure, offsite locations; but if your business is like most operations, it isn't entirely digital. You have paper records, including sensitive personal information about your employees.
Your business also depends on physical assets—computers, displays, servers, fax machines, and everything that goes with them—that you will need to replace if someone steals them or destroys them. Can you afford that kind of disruption?
The latest security systems can not only alert you to a break-in, trigger an alarm, and dispatch law enforcement, but can also provide video surveillance, manage the HVAC (heating, ventilation and air conditioning) system, control the lighting, automatically power down small-office equipment according to a schedule, and in some cases provide access control.
Think you can't afford a security system? You'll be surprised at how inexpensive these systems can be. I'll discuss three examples: a do-it-yourself system from FrontPoint Security, a custom-installed system from ADT, and an access-control system from RedCloud that's designed for a larger company's IT department to manage.
FrontPoint Security
This inexpensive, do-it-yourself security system offers some flexibility.
If you don't mind rolling up your sleeves and installing a product yourself, FrontPoint Security sells a remarkably capable yet inexpensive security system. As long as you can mount the control panel near an AC outlet, you won't need to deal with electrical wiring, because everything else is either wireless or low voltage.
Although FrontPoint markets its products and services primarily to homeowners, FrontPoint cofounder Peter Rogers says that 10 to 15 percent of FrontPoint customers are commercial premises such as office spaces, retail locations, and warehouses.
You can monitor, arm, and disarm FrontPoint's systems via any computer, tablet, or smartphone with Internet access (you'll find apps for tablets and for Android, BlackBerry, and iPhone handsets). You can monitor and control the entire system using any standard Web browser.
Your facility must be within range of a cell-phone tower, and if you install Internet video cameras, it must have broadband access. FrontPoint contracts with a large SaaS (software as a service) vendor, Alarm.com, for central-office monitoring, but FrontPoint handles its own tech support during setup and for the life of your contract.
Would You Like Automation With That?
A FrontPoint Security system can be as simple or as elaborate as you'd like. You can discuss your needs with a sales rep over the phone, but every system will include at minimum a wireless control panel and one wireless door/window sensor. Ideally, you should install one of these sensors on each exterior door.
The two-piece sensors come with industrial-strength double-sided tape, so all you need to do is peel the backing and stick the sensor pieces in place: One piece mounts to the door, and the other attaches to the door frame. When someone opens the door, the two pieces separate to break a magnetic field, and the sensor sends a message to the control panel.
If the system is armed, the control panel sends an alert to a central monitoring office. (This is where the cell-phone tower requirement comes into play, as intruders can easily compromise security systems that rely on landlines by cutting the phone line outside the building.) The central office then sends you a text alert and email message; more important, a human being calls you or your designated contact.
At your direction—or by default if you can't be reached—an Alarm.com employee will call your local law-enforcement dispatcher. You can also configure the system to send you an alert each time the door opens even if the system is not armed.
How Much Does It Cost?
A system consisting of just the control panel and one stick-on door/window sensor costs less than $300 ($239 for the control panel and $33 for the sensor). In addition to purchasing the equipment, you'll need to pay $43 per month for central-office monitoring and Web access/control. FrontPoint does not require customers to sign a long-term contract, but the company does encourage such a commitment, as it slices $300 off the price of the equipment in exchange for signing a 36-month service contract.
In addition to intrusion sensors, a FrontPoint system can accommodate surveillance cameras, lighting controls, keyless-entry locks, a thermostat, motion sensors, and even water sensors (for detecting a burst pipe or a flood). You can tie the cameras, sensors, entry locks, and lighting controls all together at the control panel.
As a result, when someone opens a door using the keyless-entry lock, for example, the lock sends a message to the control panel to disarm the alarm system. A lighting-control module, meanwhile, can simultaneously switch on a light when someone opens a door at night.
And you can program the cameras to record a video clip automatically when an alarm event is triggered. The cameras themselves are outfitted with motion sensors, too, which is handy for monitoring access to a particular area of your building.
A FrontPoint system consisting of the control panel, two door/window sensors, two indoor night-vision cameras, one motion sensor, one lighting-control module, one in-wall light switch, one panic button, and a thermostat costs $980 (before a $300 rebate). Support for the automation features increases the monthly monitoring fee to $50 per month.
FrontPoint offers smoke and heat detectors for fire detection for residential installations, but not for commercial environments. "In many jurisdictions," Rogers explains, "fire alarms must be a separate system. Commercial fire systems are highly regulated and can be fairly expensive to set up."
If you find yourself forgetting to activate the alarm system, you can configure it to send you a reminder at a specified time, up to seven days a week. Alarm.com also recently added a geo-services feature that can send you an SMS alert reminding you to arm the system when you leave a "fence" (a perimeter around your office that you've drawn on an online map) or when you arrive at another fence (a perimeter around your home, for instance). This last feature is currently available only for Android and iPhone smartphones.
Will It Fit Your Needs?
FrontPoint's systems are best suited to home offices and smaller commercial facilities, because the control panel cannot support more than 39 sensors, and it's limited to nine unique user codes for arming and disarming.
You have a few workarounds, however; you could, for instance, deploy a $65 motion sensor to cover a large area inside your office, instead of mounting sensors on every entry door.
You can get around the nine-user limit by providing employees with $30 keychain remotes for arming and disarming the system (although each keychain remote will count against your 39-sensor limit). You can assign each user code and each keychain remote to an individual, and the system tracks log-ins, log-outs, alarms, and all other events so that you have an ongoing audit trail of the activity at your location.
Next Page: ADT Pulse
ADT Pulse
These systems are professionally installed, but they're pricey.
ADT maintains a large presence in both the residential and commercial security markets. The company rolled out its residential Pulse system in late 2011, and is now marketing the same devices and services to small businesses.
As with FrontPoint's system, Pulse combines central-office-monitored security with video surveillance and lighting, HVAC, and small-appliance control available as options. Pulse does not include access control in the form of keyless entry, but ADT can provide such systems independently of Pulse. ADT dispatches a technician—and in some cases, an electrician—to install its systems.
You can monitor, arm, and disarm a Pulse system via any computer, iPhone or Android smartphone (BlackBerry is not supported), or tablet with Internet access, but you must have broadband Internet access at your location. (ADT's equipment must be hardwired to your router.
Unlike FrontPoint's system, Pulse comes with its own wireless access point and creates a private wireless LAN for its cameras and control panel.) ADT's systems connect to its own central office for monitoring via a landline, but Pulse systems also have a dedicated GSM module for cellular backup in the event the landline is compromised. You can monitor and control a Pulse system through a Web browser or with a smartphone or tablet app.
How Much Does It Cost?
ADT offers three tiers of Pulse service to business customers. Premise Control ($499 before a $100 rebate, plus a monitoring fee of $50 per month) includes the wireless control panel with remote access and intrusion detection (two door/window sensors and a motion detector).
Enterprise View ($874 before a $150 rebate, plus a monitoring fee of $58 per month) adds two wireless video-surveillance cameras and a holdup/panic button.
Total Productivity ($1324 before a $150 rebate, plus a monitoring fee of $68 per month) adds a thermostat, one plug-in lamp/small appliance module (capable of supporting up to 15-amp electrical devices), and one in-wall lighting-control switch (this requires an electrician to install, which adds another $200 to the price of the system).
You can tack on more sensors, lighting controls, and other modules at additional cost (prices range from $75 to $100, including installation). To qualify for the rebates, you must sign a 36-month contract.
The ADT wireless door/window sensors function just as the FrontPoint devices do: One piece attaches to the door or window, and the other attaches to the frame. Separating the two pieces breaks a magnetic field, which triggers the sensor to send a signal to the control panel. Pushing ADT's holdup/panic button produces the same result.
And ADT's system behaves much the same as FrontPoint's: If the system is armed, the control panel sends an alert to ADT's central office, and ADT's system sends you a text message and/or email. An ADT representative, meanwhile, will attempt to contact you to make sure that the event isn't a false alarm.
If you think it might be a break-in, or if ADT can't reach you, the company will contact your local law-enforcement dispatcher.
ADT's standard indoor cameras are wireless; unlike FrontPoint's wireless cameras, however, they're not outfitted with motion detectors or night vision. Both company's cameras can record video clips in response to alarm events, but ADT's also accept programming to record video clips in response to other system events, such as if a door or window opens, or if a stand-alone motion sensor detects motion. In addition, compared with FrontPoint, ADT offers a much wider range of indoor and outdoor cameras, including analog cameras that can tie into a Pulse system via an encoder.
Lighting Control and Other Automation Features
The automation features in the ADT and FrontPoint systems are very similar, in part because both companies use the same Z-Wave technology. You can program lights to turn on and off at certain times or in response to system events, such as a door opening or an alarm being triggered.
ADT's Pulse system, however, can report the status of each Z-Wave device. If you want to know whether someone forgot to turn off the coffeemaker or the lights at the end of the day, for instance, you can log in to the Pulse system and verify the on or off state for the appliance module or the light switch. You can send an "off" command to any Z-Wave device using either system, but FrontPoint's controller does not report Z-Wave device status in real time. Both systems do report sensor and thermostat status.
Will It Fit Your Needs?
ADT's system works better in larger buildings than FrontPoint's does, since it's capable of supporting more sensors: You can have a maximum of 96 (lighting/appliance controls, cameras, and the thermostat do not count against that number, but keychain remotes and panic buttons do). ADT can also deploy other types of alarm systems, although they might not all be integrated with Pulse.
If you're looking for an alarm system with central-office monitoring and the ability to have law enforcement dispatched in the event of a break-in, but you don't want to install the system yourself, a company with local installers is a good solution.
Next Page: RedCloud Express
RedCloud Express
This system provides site security via sophisticated access control.
RedCloud provides a different type of premises security system, one that revolves around access control. As such, RedCloud Express wouldn't be appropriate for a retail operation open to the public, but it is ideally suited for small-office buildings, warehouses, and manufacturing facilities where you need to restrict access to authorized personnel and you wish to keep track of who's coming and going.
Unlike FrontPoint and ADT, which sell security systems along with subscriptions to central-office-monitoring services directly to the end user, RedCloud sells its security systems through a dealer/installer network.
And instead of paying service fees for central-office monitoring, you manage a RedCloud system on your own, using a PC, a smartphone, or a tablet. This means that law enforcement won't be dispatched in the event of an alarm event unless whoever on your staff is monitoring the system at the time calls them.
A RedCloud security system consists of a master controller linked to door and window sensors, security-card readers, keyless-entry devices, IP surveillance cameras, alarms, and lighting controls via an ethernet network.
Typically this type of access-control system operates on a stand-alone server with a commercial operating system and database, and it relies on proprietary door hardware that ties you to one manufacturer.
In contrast, RedCloud's systems are designed so that any corporate IT department can deploy and maintain them. You have no applications to install on the client machines—you can monitor and maintain the system using any PC, tablet, or smartphone—and the systems utilize nonproprietary door hardware.
How Much Does It Cost?
The least-expensive model, RedCloud Express ($1200 to $2000), is a network appliance whose setup, according to the company, "is as easy as installing a wireless router." RedCloud Express can manage up to 32 card readers and up to 2000 identities.
RedCloud Enterprise is a rack-mount server that can manage up to 2048 card readers and as many as 500,000 identities. RedCloud Virtual delivers the same functionality as RedCloud Enterprise, but in a VMware virtual-server environment.
And if your business doesn't have the desire, the IT resources, or the capital budget to acquire and manage a RedCloud system on its own, keep in mind that RedCloud recently announced a cloud-based initiative whereby service providers sell its product as SaaS (software as a service). In this scenario, the service provider purchases the hardware and installs everything, and you point your browser to the service provider's website to manage the system on a subscription basis (at a cost of $80 to $100 per month, depending on your system's complexity).
Will It Fit Your Needs?
RedCloud's products are aimed at larger businesses that are primarily interested in access control, as opposed to central monitoring with the ability to dispatch law enforcement automatically in the event of a break-in. RedCloud can tie into an alarm system—as well as lighting control, video surveillance, and other systems—but its primary function is to monitor, control, and maintain a record of who has access to your building.
Determining the Right System for Your Business
All three of the systems discussed here are capable of providing security for your office, tracking who's coming and going, tying into alarm systems, and protecting your physical assets. RedCloud's products deliver the best access-control features, because they're designed to manage keyless-entry systems, card readers, and door controllers. RedCloud's products are also the most scalable. FrontPoint can support keyless entry, albeit with residential-grade deadbolt locks. ADT can provide commercial-grade access control with its other service offerings, but that feature isn't tied into Pulse.
Although the ADT and FrontPoint systems started as residential security and home-control products, they can scale up to serve a small office or a retail operation. The RedCloud systems cost the most and require the most infrastructure, but that system also provides the most sophisticated access control.
ADT's Pulse system costs more up front than FrontPoint's—especially after you take rebates into consideration—and ADT's monitoring charges are $8 per month higher when you add video surveillance, and $18 per month more if you opt for video surveillance and the thermostat. On the other hand, you won't have to install ADT's system yourself.
Note: This story was updated to clarify that the FrontPoint Security system requires broadband access only to support Internet video cameras; all other data is carried on a GSM network.