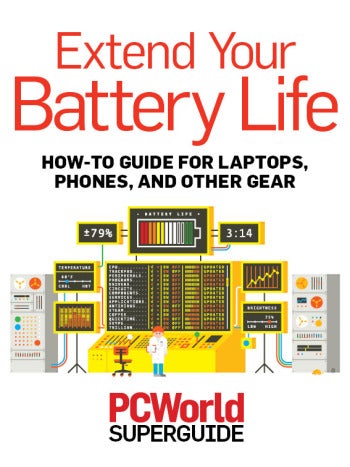 Few things in life are as frustrating as running out of juice at the most inopportune times. You need to make an important call just as your phone's screen goes dark. You have to finish an important document just as your laptop's battery runs out. You have your camera poised to snap the perfect shot but when you press the shutter, nothing happens.
PCWorld's latest Superguide, "Extend Your Battery Life," has the tips and tools you need to avoid these hair-pulling situations. The tips range from the obvious (dim your phone and laptop screens, turn off Wi-Fi when you don't need it) to the unexpected (choose a dark-colored wallpaper for your phone, tweak the screen timeout). Other sections recommend handy apps and accessories for your smartphone and laptop. If you'd like to read the booklet on your PC, consider a complete 25-page full-color PDF in a convenient download for $1.99. Or cover all your bases and have a copy of the Superguide in every version for each of your devices (.ePUB, .PDF, and .MOBI) with our $2.99 ebook and PDF bundle. You can also read our Extend Your Battery Life Superguide on a Kindle or Nook. It is available in the Kindle Store and Nook Bookstore for $1.99. We also have a copy available on Apple's iBookstore for $1.99. For more practical how-tos, in-depth features, tips and tricks, and more about other topics, be sure to check out our other Superguides, including Android Ice Cream Sandwich, Speed Up Everything, Windows 7, and Android Honeycomb. Buy now: Available as a downloadable PDF, on the iBookstore, via the Kindle or Nook for $1.99, or in a downloadable ebook bundle for $2.99.
Note: When you purchase something after clicking links in our articles, we may earn a small commission. Read our affiliate link policy for more details.