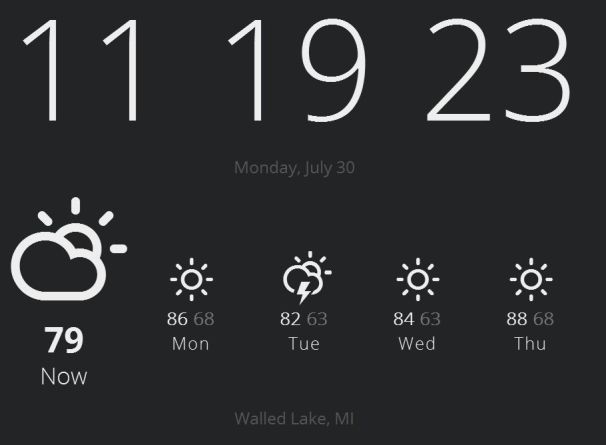 When you open a new tab in Google's Chrome browser, you typically see thumbnails of your most-visited sites or a collection of Chrome apps.
Those are handy options, to be sure, but there are other useful ways to take advantage of that "tab estate."
For example: Currently, a Chrome extension that displays a clock and weather forecast whenever you open a new tab.
A rather sexy clock and weather forecast, too. As you can see in the image above, it's a nice-looking full-screen display, the kind you might want to leave open when you're not using your browser for something else.
Currently is smart enough to determine your location automatically, though if it doesn't for some reason or you want to choose a different city, just click the little gear icon in the lower-right corner.
That lets you adjust other settings as well, including choice of Celsius or Fahrenheit, 12- or 24-hour clock, and dark, light, or blue color schemes. (Make sure to click Save when you're done making changes.)
Want to go back to Chrome's regular sites/apps display? Just click that other icon in the lower-right corner, the one that looks like a little stack of boxes.
This is a great little add-on for Chrome users who are, er, hassled by the uninformative, unattractive nature of the browser's new tabs.
Contributing Editor Rick Broida writes about business and consumer technology. Ask for help with your PC hassles at hasslefree@pcworld.com, or try the treasure trove of helpful folks in the PC World Community Forums. Sign up to have the Hassle-Free PC newsletter e-mailed to you each week.