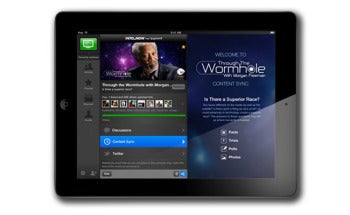 Yahoo unveiled late Monday the next version of IntoNow that automatically recognizes a song playing on TV, even if it is just background music, besides allowing users to capture, caption and share TV images.
The TV and Music Sync feature in IntoNow surfaces relevant content, including sports teams, personalities, articles, scores, polls, or trivia, as it's happening on TV, Yahoo said in a blog post.
The Music Sync feature will also identify the music playing and can be purchased with one-click through iTunes, or the music video viewed on YouTube, Yahoo said.
The new version IntoNow 3.0 is available as an app only for the iPad, iPhone, and iPod touch, Yahoo said.
Yahoo acquired IntoNow in April last year to bolster "its social engagement across the Yahoo! network and on all screens."
Ailing Yahoo appointed a high-profile Google executive Marissa Mayer as CEO earlier this month, leading to speculation that Mayer, who was in charge of Google's Local, Maps and Location products, would boost product development at Yahoo.
Mayer congratulated the IntoNow team late Monday in a Twitter message, and said she loved the TV and Music Sync and Capit features of the new version.
The CapIt feature lets users capture and add their caption to breaking news or a funny scene on TV, and share it on Facebook, Twitter or IntoNow. "Simply tap a button and IntoNow will instantly synchronize and deliver still images of what you're watching on TV," it said.
IntoNow 3.0 also allows viewers to create private conversations with friends, form groups for a particular TV event or set up groups to talk about favorite shows as the season progresses, Yahoo said.
When you purchase through links in our articles, we may earn a small commission. This doesn't affect our editorial independence.