Apple is set to unveil a new iPhone and possibly a new smaller iPad on Sept. 12, according to pundits. Apple has previously dismissed the 7-inch form factor for tablets because it's too small, but the recent successes of the Kindle Fire from Amazon and the Nexus 7 tablet from Google, manufactured by Asus, have slowly squeezed the 9.7-inch iPad's market share, so Apple is expected to hit back.
Rumors of an iPad Mini, or iPad Nano, or basically the general idea of a smaller, cheaper iPad have been floated pretty much since the original iPad came out in 2010. Needless to say, it hasn't materialized. But then again, Apple is known for taking its time to perfect products before they are launched, meaning the company could have a surprise up its sleeve.
The Timing
Traditionally, Apple has held a special fall event since 2001, when the iPod was launched. Autumn used to be reserved for introducing the latest iterations of its music products, my ComputerWorld peer Jonny Evans explains. This changed last year when there was no dedicated summer iPhone launch event, and it got moved into the fall, as iPod sales are slowly declining in favor of Apple's iPhones and iPads.
The Sept. 12 launch date for the newest iPhone and a smaller iPad was first floated around by Mac site iMore, later confirmed by sources of AllThings D, Apple pundit Jim Dalrymple of The Loop and then The Verge — all reputable sources.
However, only iMore mentions that a smaller iPad might be unveiled at the event, while the others only talk about the launch of a new iPhone. So whether Apple will announce a smaller iPad this fall, along with the new iPhone, or wait until next spring, the usual iPad release cycle, remains to be seen.
What we do know from Apple's latest quarterly filing is that the company is ramping up for a big fall product cycle, as figures show a spike in prepayment for inventory components, suggesting one or more products are being mass-produced.
The Specs
Steve Jobs said in the past that Apple is not looking into making 7-inch tablets because users would have to sand down their fingers in order to accurately tap on buttons on the screen, compared to the screen area of a 9.7-inch iPad. But Apple could have found a way around this issue.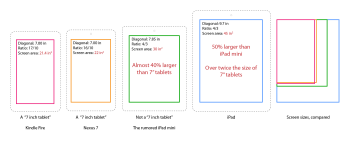 This chart from Twitter user Trojankitten shows that Apple's smaller iPad would not have the same aspect ratio as the Kindle Fire and Nexus 7, but more like the iPad. This would mean that the smaller iPad's display would be as tall as the current iPad's width, given reports from Bloomberg and the Wall Street Journal indicating the size of the display would be between 7 and 8 inches.
John Gruber of Daring Fireball did the math and reached the conclusion that in order to maintain the same aspect ratio as the big iPad (thus making it a small iPad, and not a big iPod), the smaller tablet would have a 7.85-inch screen diagonally, with a resolution of 1024 by 768 pixels.
All in all, this would actually mean that at 7.85-inch diagonal and 4:3 aspect ratio, the smaller iPad would have almost 40 percent more screen estate than 7-inch tablets like the Nexus 7 or Kindle Fire.
Since the screen size debate has been the main focus on the smaller iPad, little is known about the other specs. Boy Genius Report reports via Chinese-language site MyDrivers that the smaller iPad would cost between $249 and $299 at launch, some $50 more than the starting price of the Nexus 7 and Kindle Fire. In a separate report, the site also showed purported case renderings for the smaller iPad, indicating it would be 7.4 millimeters thin (new iPad is 9.3 millimeters thick), a hair over the 7.3 millimeters thin iPod touch.
Follow Daniel Ionescu and Today @ PCWorld on Twitter
Note: When you purchase something after clicking links in our articles, we may earn a small commission. Read our affiliate link policy for more details.