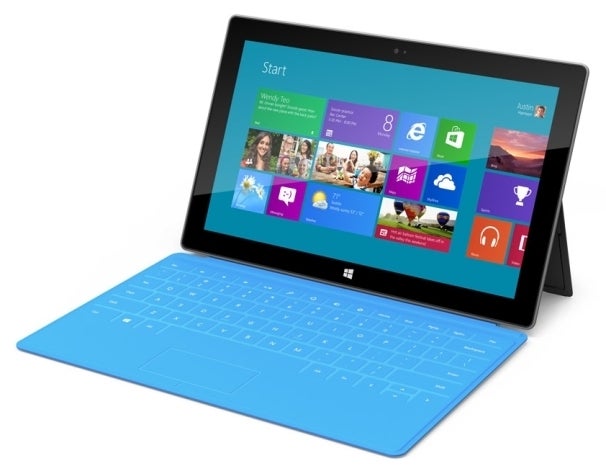 Surface will change your expectations of what you can do with your tablet. First and foremost, you are no longer buying into a dedicated mobile OS and its corresponding app ecosystem. Instead, you'll be able to buy one app and use it on both a tablet and a Windows 8 laptop or desktop PC.
While the Metro face of the two Surfaces will be the same, the hardware flavors are fundamentally different. Surface RT will compete most directly with Apple's iPad and the current crop of Android tablets, all of which run on power-efficient ARM-based processors. And Surface Pro—though still a tablet—targets Ultrabooks and other ultraportable laptops.
Click on the chart below for a comparison of the two Surface models with other tablets.
Surface RT vs. the iPad and Android Tablets
Tech specs: Surface RT comes with a USB 2.0 port standard (critical for connecting external storage and peripherals), along with a MicroSD card slot and Micro-HDMI video out. Most Android tablets have a MicroSD card slot and a Micro-HDMI port as well, but very few have a full-size USB port. Apple's iPad famously has no ports, with the sole exception of its proprietary dock connector.
At the chip level, Nvidia's Tegra 3 ARM processor powers the Surface RT. Most Android tablets run a version of the Tegra 3, as well, or they use another ARM-based processor. The iPad carries Apple's own processor, which is also based on the ARM architecture.
Storage on the Surface RT is similarly upscale, with a minimum of 32GB. The iPad and most Android tablets start at just 16GB. Among Android tablets, Asus's Transformer Pad Infinity TF700 and Acer's Iconia Tab A700 are the two exceptions, with 32GB baseline models.
Screen and resolution: Microsoft lists the RT's display as "HD" rather than as "Full HD," which likely translates into a resolution of just 1366 by 768 pixels. That won't compete with the iPad's Retina display, or even with those of Android tablets such as the Transformer Pad Infinity TF700 and the Iconia Tab A700 (both with resolutions of 1920 by 1200 pixels). The Surface RT's optically bonded display, which eliminates the annoying air gap between the screen and the glass, should help overcome its resolution shortfall. Microsoft does cite its ClearType font-display technology, but we won't know how much ClearType can compensate for the gap in pixel density until we have the Surface tablet in hand.
Physical specs: Microsoft didn't supply complete numbers, but it did say Surface RT should be about 0.37 inch thick—thinner than many competing tablets and in a dead heat with Apple's iPad. Current estimates put the Surface RT's weight at 1.49 pounds, or 0.05 pound heavier than the current iPad. That's a negligible difference, but the iPad itself got heavier this year, while Android tablets are consistently moving in the other direction, as consumers have come to expect. At 1.49 pounds, the Surface will be about 0.2 pound heavier than the Toshiba Excite 10 or the Asus Transformer Pad Infinity.
The Surface tablet's design is unique. It features a comfortably angled bezel created with ergonomics in mind; a balanced arrangement of internal components that make Surface feel lighter; and a built-in kickstand for conveniently using Surface in a variety of scenarios.
Productivity: In this respect Surface RT is likely to shine. Unlike Apple's iOS and Google's Android, Microsoft's Windows 8 provides the ability to view two apps at a time on one screen, as well as having additional apps multitasking in the background. This flexibility is closer to what users are accustomed to having on a desktop or laptop computer. Plus, Surface RT will include Office Home and Student 2013 RT (with Word, Excel, PowerPoint, and OneNote).
Surface Pro vs. Ultrabook Laptops and Windows 7 Tablets
Tech specs: Surface Pro will come with 64GB or 128GB of storage and an Intel Core i5 CPU (Microsoft has not yet re­­vealed the clock speed). By contrast, Ultrabooks have anywhere from 128GB to 320GB of solid-state or hard-drive storage, and feature Intel Core i3, Core i5, or Core i7 CPUs. Microsoft hasn't disclosed how much memory its Surface Pro will have; Ultrabooks average 4GB of RAM, comparable to what you'd find on an ultraportable or all-purpose laptop. Surface Pro outdoes most Ultrabooks, though, with a Micro­SDXC card slot, a USB 3.0 port, a Mini DisplayPort for video output, and a dual digitizer for digital inking with a stylus.
Screen and resolution: Preliminary specs simply state that Surface Pro has a "Full HD" 10.6-inch display, which would suggest a display resolution of at least 1920 by 1200 pixels. That minimum spec would put it on a par with the best Android tablets from Asus and Acer, but those displays are half an inch smaller, so they have a higher pixel density. And none of the Android models compares with the 9.7-inch Apple iPad at 2048 by 1536 pixels. Like Surface RT, Surface Pro will also feature Microsoft's ClearType (standard in Windows 8).
Physical specs: Surface Pro's overall physical design is the same as Surface RT's; but this model will be thicker, at 0.53 inch. Nonetheless, Surface Pro looks more stylish and snappy than current Windows 7 slates, and it's thinner than many Ultrabooks. Surface Pro's weight is estimated at 1.99 pounds, which is significantly lighter than the average 3- to 4-pound Ultrabook and comparable to current Windows 7 tablets.
Productivity: Intel's Core i5 is powerful enough to let you tinker in Photoshop, handle complex spreadsheets, or play games. Surface Pro won't come with Microsoft's Office apps, though. Still, with digital inking plus one of Microsoft's keyboard cover options, Surface Pro could be the ultimate ultraportable. If you can make do with a 10.6-inch display, then you can benefit from Surface's inherent flexibility.
Editor's note: In case you missed them, here are the two earlier articles in this series: