At a Glance
Expert's Rating
Pros
Decent processing power in a small package
Small, compact case with detachable DVD
Cons
Slow hard drive
Not Wi-Fi ready out of the box
Our Verdict
The ThinkCentre M92P is a compact, energy-efficient PC in a tiny package, but it can't make up its mind whether it's an office system or multimedia machine.
The compact Lenovo ThinkCentre M92P's standout feature is its small size (for a desktop PC) and easy portability, but how good a machine can come in such a small package?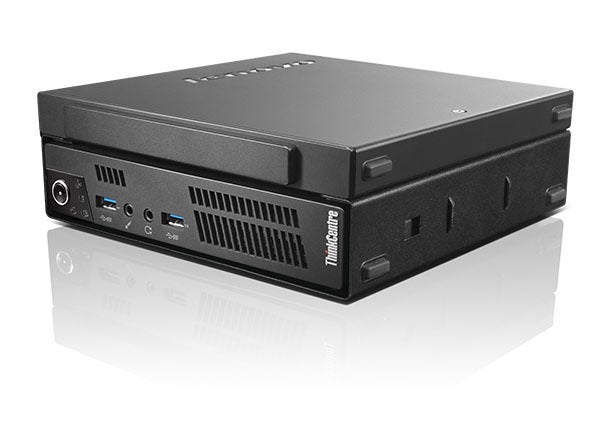 Our review model, as configured, cost only $580 (as of July 19, 2012) and yet carries an Intel Core i5-3470T dual-core Ivy Bridge CPU that runs at a standard 2.9GHz or at 3.6GHz when Intel's Max Turbo Frequency kicks in. The system's 4GB of 1600MHz DDR3 RAM helps give the little box a bit of processing power.
Performance
The M92P earned a mark of 95 on PCWorld Labs' strenuous WorldBench 7 benchmark suite. This result indicates that the machine runs about 5 percent slower than our baseline system, a fully equipped desktop PC configured with a discrete graphics card. Achieving so similar a score with a package that measures just 7.1 inches wide by 7.2 inches deep by 1.4 inches high is an impressive feat.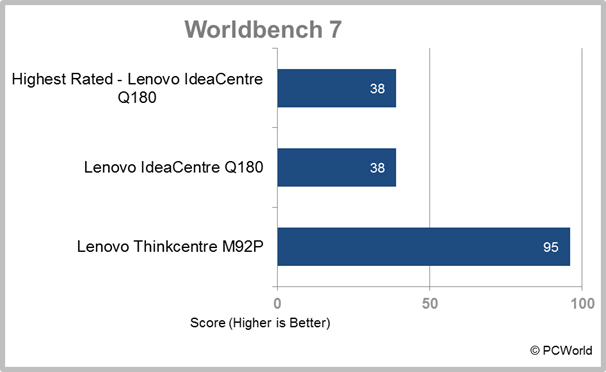 The M92P packs a 500GB hard drive that runs at 5400 rpm. Since storage is so inexpensive and quick these days, I was disappointed with Lenovo's choice of a drive that delivers subpar performance. When buying the system online, you have the option of swapping out the sluggish drive for a 128GB solid-state drive for $220 more, but giving up so much space for additional speed may not be a tough call for most nonbusiness users. To help you speed things up, Lenovo provides four USB 3.0 ports–two on the front and two on the back. A single USB 2.0 on the system itself is typically dedicated to connecting the optical drive. But you don't hav to worry about using the port for that purpose, since the optical drive has two USB 2.0 ports on it, yielding a net gain in ports when you connect the component.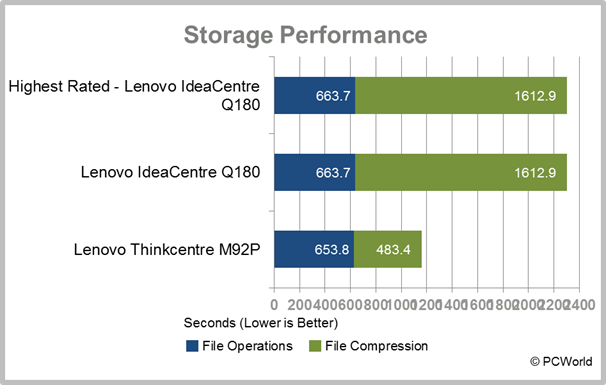 The M92P's optical drive–a standard DVD+R DL RW–is built into a tiny chassis where you dock the system. A Blu-ray drive would have been a welcome alternative to help push the system into media machine territory, but it would also have raised the system's price. On the underside of the case is a fixture that lets you attach the system to a wall or to a special monitor that Lenovo sells, turning it into an all-in-one-style desktop.
This is by no means a gaming machine. Intel's integrated HD graphics 2500 helps keep the system compact, but it also provides poor 3D graphics performance. On our graphics-intensive test games, run at high settings and the PC's maximum resolution of 1680 by 1050 pixels, the M92P struggled to generate 12.8 frames per second on Dirt 3 and a 5.2 fps on Crysis 2. This is nowhere near a playable frame rate unless you enjoy the idea of playing in slideshow motion. Even with the graphics settings lowered and the resolution dialed back to 1024 by 768 pixels, the system managed just 37.9 fps on Dirt 3 and 15.4 fps on Crysis 2.
Lenovo has done its best to ensure that this little system can stay on as long as you want it to, with proper cooling and energy efficiency. Lenovo's ICE (Intelligent Cooling Engine) feature keeps the system cool by monitoring key components in real time and providing optimum power to the fans at the right time. The M92P is also Energy Star 5.2 Certified, meaning that the machine is about as green as it can be.
Among the other ports that Lenovo included with the system are DisplayPort, VGA, gigabit ethernet, and the basic headphone/microphone jack. Unfortunately the M92P is not Wi-Fi ready out of the box, so you'll have to tack on at least $20 more for a PCI Wi-Fi adapter. I was surprised at the lack of HDMI and stereo ports to support easy hookup to an HDTV. The machine's size would make it appealing as a media streamer, but needed ports just aren't there.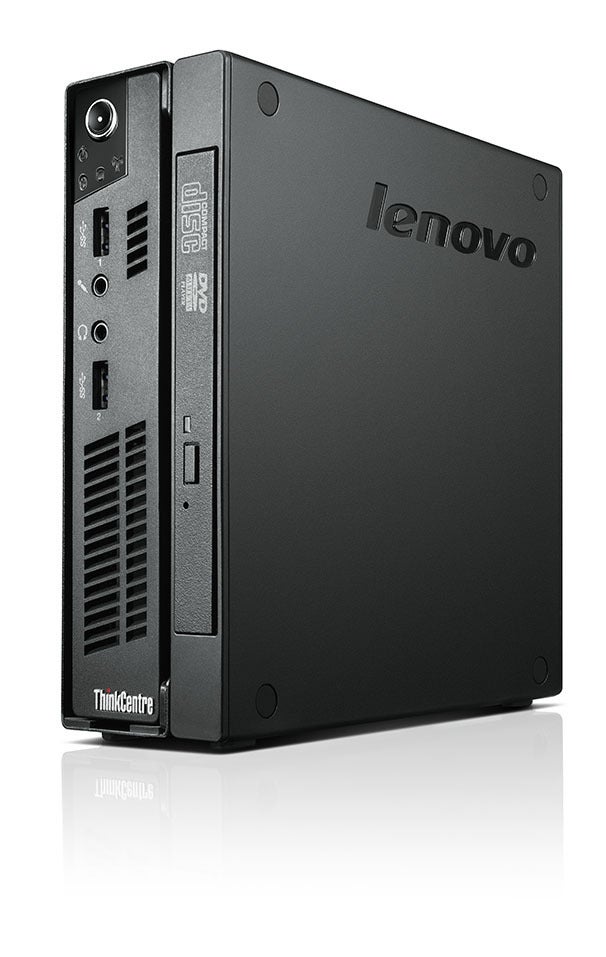 The ThinkCentre M92P vastly improves on Lenovo's most recent previous compact entry, the IdeaCentre Q180 ($399 as of April 9, 2012). That machine managed a puny score of 38 on WorldBench 7, likely because of its Intel Atom D2700 processor. If you're looking for big power in a reasonably small package, however, consider the Origin Chronos ($1399 as of April 2, 2012), which received a 204 on WorldBench 7 (104 percent faster than our reference system).
The ThinkCentre M92P offers impressive processor power in a tiny package, but it lacks the support of other powerful components. It's caught between aspiring to be a full-fledged desktop and trying to be a high-quality media machine. Unfortunately, the lack of a Blu-ray drive, HDMI, stereo output, and especially Wi-Fi handicaps it in pursuing the latter goal. Charging a bit more money and equipping it to deliver on a specific function would have enabled the system to mkr a stronger argument for itself in the compact market. Still, its appeal to business users is undeniable.