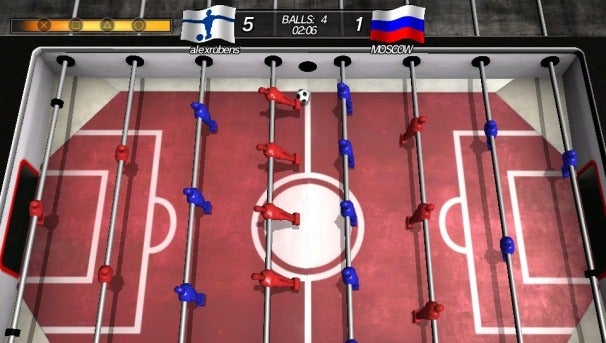 It isn't often that we get a foosball game, much less one that genuinely excites us. That just isn't a regular occurrence. They're generally part of a minigame collection or some shoddy release meant to grab a few bucks. Luckily for us, Foosball 2012 isn't that. In fact, it's one of the more competent digital releases for the Vita/PS3 we've seen yet. Foosball 2012 is a rare case of a developer porting a simple recreational table game like foosball to modern consoles and doing so in a way that is easy to understand and is easy recognizable in its improved form. As soon as I jumped into a game, I knew what do to immediately. I used the left analog stick on the PlayStation Vita to move the ball up and down between my players with ease.
That's a key strategy when playing foosball in real-life, passing the ball up and down between players on the same rod, looking for an opening in the opponent's defense. It's a precise movement, one that gives the opponent the ball and an opportunity if you do it wrong. It was a huge relief that the tight controls of an actual foosball table were replicated so beautifully in Foosball 2012. I didn't ever find myself having issues with the controls provided either, the dual stick approach did take some getting used to, but after a few games, it just came naturally. Despite the lax premise of the game, there's enough variety in the World Tour mode to keep things interesting. The tables all have different looks to them, and even different layouts on some tables. There are more traditional table layouts that are very reminiscent of old-style Varsity tables, but there's also more contemporary tables that have a very new-age look and feel to them. In World Tour mode, each match has a different win condition that helps keep things from getting repetitive. While most matches require ten goals to win, some limit the game to ten balls, with the victor having the most goals when there are no ball left. There's also the aptly-named Fireball, which replaces the foosball, with a fireball. There's no real gameplay difference with this mode, but it's still a neat change regardless. The later stages get pretty silly, with one of the level rewards being Hot Dog foosmen that replace your regular characters with hot dogs.
Players earn stars by winning matches in World Tour that can be used to unlock new trick shots and bonus cities. They can also be unlocked by purchasing them through the PlayStation Store though. Utilizing these trick shots can be difficult, due to the odd button combinations that they require, often requiring use of both the right stick and the face buttons at the same time. It doesn't work well, despite being an automatic goal nearly every time. These trick shots don't feel as tight as the rest of the experience and seem like an afterthought. It isn't enough to say that Foosball 2012 is the best foosball game available, as it's also one of the best table sports adaptions available. The controls feel responsive, killing the worry that it doesn't feel as real as a table, and everything feels just right. The game of foosball can get stale somewhat quickly, but Foosball 2012 is still a great game for quick sessions while commuting. Foosball 2012 has online multiplayer, but I wasn't able to find anyone online to play with, despite the game being out for nearly a week.