At a Glance
Expert's Rating
Pros
Easy to use
Nice interface
Cons
Not as effective as others with tricky recoveries
Our Verdict
Exceptionally easy to use, this data recovery program didn't work in more dire scenarios.
Stellar Phoenix Windows Data Recovery Home is playing in crowded field that not only includes capable freebies such as Recuva and Easeus Data Recovery Wizard Free Edition, but mature, affordable and ultra-reliable programs such as R-Studio Data Recovery and Active@ File Recovery. To compete you have to be very good. Alas, while Stellar Phoenix Windows Data Recovery certainly compares well in ease of use and has all the expected features, it didn't perform perfectly in my tests.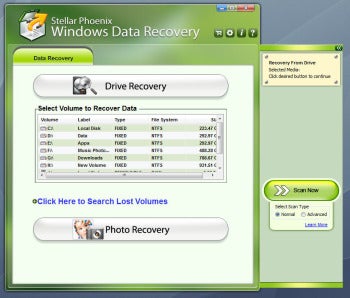 The Stellar Phoenix Windows Data Recovery Home interface is simple and friendly. You simply choose the partition (or drive if there are no usable partitions) and then standard or advanced (sector-based) recovery. Once files are discovered, you may view them in a classic tree format, as a list of recognized file types (jpg, mpg, doc, etc.), or a list of file types that you've filtered for.
I had mixed results recovering data with Stellar Phoenix Windows Data Recovery. It seemed to find things when there were minimal problems–simple deletions, missing partition info—but it failed on drives with too much damage to the file system. For instance, it failed completely with a corrupted thumb drive, understandably throwing a "not a valid volume" error in standard mode, but simply doing nothing in advanced mode.
By contrast, both Active @ File Recovery Standard and R-Studio found all files on the corrupt thumb drive, as well as other drives with even worse problems. R-Studio also works with Mac and Linux file systems, while Stellar Phoenix Windows Data Recovery Home is NTFS and FAT only.
Fortunately, you can try the Stellar Phoenix Windows Data Recovery Home before buying. As with most other recovery programs, the demo will show you the data it will recover but will not recover it. Still, it's hard to recommend a $50 unknown that didn't perform well for me over the $80 R-Studio and $35 Active@ File Recovery, which have both proven reliable over the years.
—Jon L. Jacobi
Note: When you purchase something after clicking links in our articles, we may earn a small commission. Read our affiliate link policy for more details.