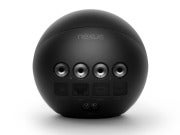 The launch of Google's Nexus Q media streaming device has been postponed, and those who preordered will get the device free, the company said on Tuesday.
Google announced the circular Nexus Q streaming device in June at the Google I/O conference in San Francisco. The device is designed to stream movies and music from the cloud and will compete with direct Apple TV.(
The company started taking orders soon after for the $299 device, with shipping scheduled for July.
In an email to customers who had preordered the device, Google said it has decided to postpone the consumer launch of Nexus Q while it works on "making it even better."
The industrial design and hardware were met with great enthusiasm, according to the email. But the company also heard initial feedback from users that they want Nexus Q to do even more than it does today, it said in the email, a copy of which was provided by Google.
The company did not give a specific date when shipments will begin. It also didn't specify which new features it was adding to the device which has been criticized by some reviewers for, among other things, being too expensive.
A free preview of the device at Google I/O has been extended to people who preordered, who will now receive the device free. "To thank you for your early interest, we'd like to extend the Nexus Q preview to consumers who pre-ordered and send you a free device," the Nexus Q team said in the email.
John Ribeiro covers outsourcing and general technology breaking news from India for The IDG News Service. Follow John on Twitter at @Johnribeiro. John's e-mail address is john_ribeiro@idg.com