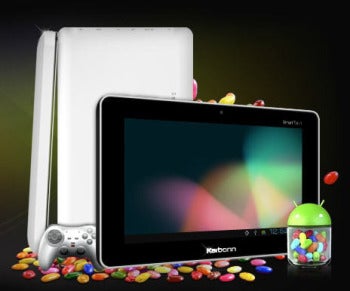 Prices are dropping on tablets running Android 4.1 OS, with Indian company Karbonn Mobiles announcing a tablet priced at around $125 and using Google's latest OS, which is code-named Jelly Bean.
The Smart Tab 1 tablet is the second with Android 4.1 after Google's Nexus 7 was announced in late June. At $125, the price is lower than that of Nexus 7, which starts at $199. The Smart Tab 1 is available in India, according to MIPS, which made the announcement on behalf of Karbonn.
The tablet has a 7-inch screen and runs on a single-core MIPS processor at a clock speed of 1.2GHz. It has a 2-megapixel front camera, 3G support through a dongle, and seven hours of battery life while surfing and eight hours of battery on video. Information on the internal storage was not available, though Karbonn said on its website that the tablet has 32GB of expandable storage. The extra storage will likely come through a micro-SD slot.
The tablet's specifications pale in comparison to Google's Nexus 7, which has a quad-core Nvidia Tegra 3 processor, a 7-inch high-resolution screen and up to 16GB of internal storage. Other companies like Asus said tablet upgrades to Android 4.1 would come in due course.
The Smart Tab 1 is the first Android 4.1 tablet to be available with a processor from MIPS, which two weeks ago said it had accelerated the port of the OS to work with its processors. On behalf of tablet maker Ainol, MIPS late last year surprised industry watchers by announcing a $99 tablet with Android 4.0 based on its processor. The $99 tablet was the cheapest and among the first with Android 4.0 at the time, but Google this year jumped ahead and shipped the first Android 4.1 device with Nexus 7.
Karbonn Mobiles said an over-the-air update to Android 4.1 will be delivered to existing Smart Tab 1 customers, but did not specify a timeline. The company hopes to sell 200,000 tablets per month.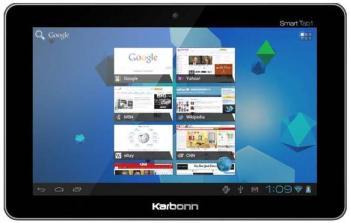 Tablets with MIPS processors are largely under $150, and the few models available have not been popular despite the low price. MIPS a few weeks ago said a new 7-inch tablet called Miumiu W1 from Chinese company Ramos would become available in a few months in India, Latin America and Europe. The tablet has a 1.2GHz MIPS processor, a front camera, a microSD slot for expandable storage, and 4GB or 8GB of storage.
MIPS is competing against ARM, whose processors go into most tablets such as Apple's iPad. Most of the application development is geared to ARM, and users have complained about application incompatibility on MIPS tablets. MIPS is addressing the issue by working with partners, and said popular Android applications like Fruit Ninja now work with MIPS processors. MIPS is also working with Opera Software for browser applications to work on MIPS tablets.
In May, MIPS released a new generation of processors called Aptiv, which will replace the current crop of processors used in tablets. The new processors are more power efficient and faster, and comparable to current ARM processors in performance, according to analysts. Devices with the latest Aptiv cores could be released as early as a year from now, MIPS has said.
Agam Shah covers PCs, tablets, servers, chips and semiconductors for IDG News Service. Follow Agam on Twitter at @agamsh. Agam's e-mail address is agam_shah@idg.com