The smartest folks I know are the ones who have bookshelves stacked with reference guides. Knowledge is power, and all that.
Of course, now that e-books are overtaking their print counterparts, it's getting harder to judge a businessperson or IT admin by his/her covers (so to speak).
Maybe the bookshelf is empty, but the Kindle/Nook/iPad/etc. might be loaded with tomes.
Indeed, if you tend to prefer your books in electronic format, you'll love this: Microsoft Press offers a large selection of ebooks on a variety of subjects — and they're all free.
I know: It's not often you see the words "Microsoft" and "free" in the same sentence, especially when it comes to business stuff. But there's no question the company is giving away a boatload of useful reading material.
Though much of it is aimed at IT professionals ("Deployment Guide for SharePoint Server 2010," for example, and "Moving to Microsoft Visual Studio 2010"), you'll also find broader titles like "Security and Privacy for Microsoft Office 2010 users," "Moving Applications to the Cloud, 2nd Edition," and "Office 365 Guides for Professionals and Small Business."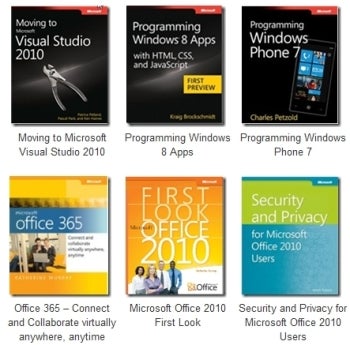 This last entry is contained in a second roundup of free Microsoft ebooks. All the others can be found in the first roundup that's linked above.
A couple other worthwhile picks: "Windows 7 Power Users Guide" and "Own Your Future: Update Your Skills with Resources and Career Ideas from Microsoft."
Obviously not all these books will appeal to all users, but I'm guessing you'll be able to find at least a couple useful titles. By the way, most of them are provided as PDFs, so you can read them on just about any device you like.