Google's cloud is about to get a silver lining.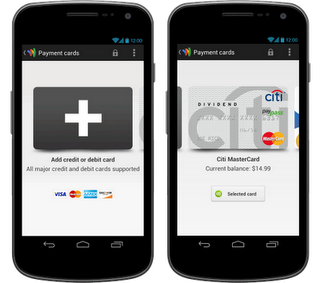 Google announced Wednesday that it has launched a cloud version of its mobile wallet application, and has added new security features to the system.
The new, cloud-based version of Google Wallet will accept all credit and debit cards from Visa, MasterCard, American Express, and Discover. Adding a card to the wallet is as easy as typing in your credit card number when you make a purchase with the mobile app, online wallet, or in Google Play.
The online wallet can be used to keep track of both online and in-store purchases.
Google has also added two new security features to Google Wallet. Actual payment card numbers are no longer stored on your phone, but are instead stored on Google's secure servers in the cloud. A wallet ID, or virtual credit card number, is stored on your phone.
According to Google, this new system makes it easier for banks to participate in Google Wallet by speeding up the integration process required to add new cards to Google Wallet.
The other new security feature: remote locking and disabling of Google Wallet. If you lose your phone or Google Wallet-enabled device, you can lock Google Wallet from the cloud. Once your account is locked, no transactions are permitted through Google wallet. If Google can make a clean connection with your phone, it can also reset your mobile wallet and wipe it clean of all card and transaction data.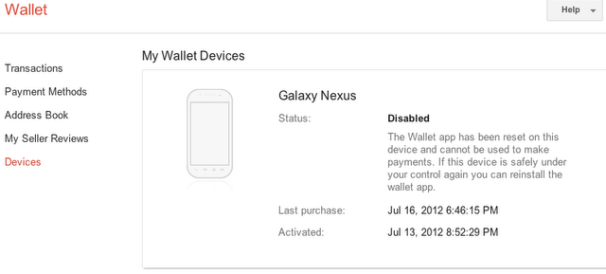 Despite Google's assurances that Google Wallet is perfectly safe to use, people continue to have security concerns. Earlier this year, Google suspended prepaid payment capabilities on Google Wallet after a security firm discovered that hackers could tap into cards with balances by resetting Google Wallet on a device.
Though Google's cloud-based Wallet is available to everyone, the mobile wallet is limited to several devices from Sprint and its pre-paid subsidiary, Virgin Mobile. Google Wallet is also available on Google's new Nexus 7 tablet. Google has cut deals with 25 national retailers to support its virtual wallet program through MasterCard's PayPass program.
Follow freelance technology writer John P. Mello Jr. and Today@PCWorld on Twitter.