At a Glance
Expert's Rating
Pros
Fast and full-featured
Low system overhead
Free
Cons
No high-speed video mode
Full-screen capture only
Windows-only
Our Verdict
Take control of your PC no matter where you are with Remote Utilities.
Some office IT utilities make the transition to home use without skipping a beat. A staple of home PCs since the era of modems and MS-DOS, remote desktop control programs allow a user to take direct control over a system without being physically present. Given the mission-critical nature they often fill in a workplace, and the length of time they've been around, it's not a surprise that many of these suites are robust, stable, and capable of performing just about any computer task you care to conjure. Remote Utilities has been a player in this market for years, with their first release in 2004 of Remote Office Manager. Since then the feature list has grown considerably, but the biggest change came with the release of 5.2; the current version is now free for personal use. That's quite a perk, given the $30 cover charge for entry otherwise.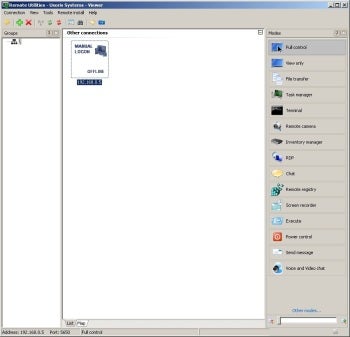 The Remote Utilities installation package consists of a server application (available for silent remote installation) and a viewer, along with a standalone, portable version of the viewer that doesn't require installation. This is ideal for use on a portable USB drive or borrowed workstation for quick access to files or settings that might otherwise be unreachable. Security is top-notch, with industry-standard 2048-bit RSA and 256-bit AES keys employed for encryption, and plenty of warnings about password protection during setup.
Over a dozen features are supported in the personal version of Remote Utilities 5.2.2, including all the relevant ones from the complete commercial package. Full desktop control, file transfer, chat and even videocam support are all on board along with extras such as a task manager, remote code execution capability and a terminal. Only IT-centered functions such as inventory analysis, built-in mediation servers and automatic integration into an active directory environment are gone from the free version, omissions not likely missed for home use. Moreover, configuration is straightforward and the Internet ID feature allows connections without opening firewall ports or entering IP addresses, although connection via those more standard means is fully supported as well.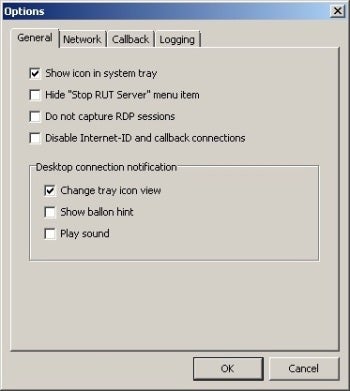 Every remote access package has its forte, and Remote Utilities picked a good area in which to excel: speed. The desktop experience is only slightly sluggish and much faster than several VNC-based solutions tested side-by-side on similar systems. There's also a low-bandwidth mode that preserves this responsiveness in marginal networking situations. Image quality is crisp and scales well with either of these selections. That said, there's no "media player" mode to soften detail and raise framerates when needed for video playback, a feature common in recent desktop sharing and broadcasting apps. This is one area where competing solutions such as Teamviewer pull ahead.
Another issue is Remote Utilities Free Edition's all-or-nothing approach to screen sharing. While an entire desktop or monitor display can be shared, there's no way to share just a portion of the screen or the single window of an application. This limits some of the potential of the package as a teaching/demonstration tool, but is admittedly a fairly minor quibble.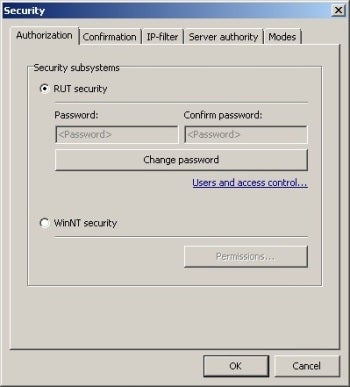 The biggest problem is OS support. While every version of Windows is covered in Remote Utilities Free Edition, no other OS gets a viewer. Documentation suggests Linux users can get by using Wine, but emulation isn't really much of replacement for a proper OS native viewer. Meanwhile cross-platform Android, iOS, and Mac users simply have to look elsewhere for their remote access needs. The latter at least have been promised relief, Mac support has been promised soon.
Despite this, Remote Utilities Free Edition is an easy choice for Windows-centric home networks. The price can't be beat, and the feature list is more than enough to satisfy even power users. If you do Windows, this one is worth a closer look.
Note: The Download button takes you to the vendor's site, where you must register to download the latest version of the software and follow the installation instructions for the free version.
—Jim Norris