At a Glance
Expert's Rating
Pros
Very fast
No lag
Easy to use interface
Cons
Free data plan runs out very quickly
Customer service is unresponsive
Our Verdict
Access UK and US websites from anywhere in the world.
One of the great ironies of the Internet is that it is meant to connect everyone together and break down barriers, but at the same time media companies erect location-based barriers around their properties. This practice is known as geo-blocking. For example, web services like Hulu, Pandora, Google Voice, and Google Music are not available outside of the United States, while BBC iPlayer and Grooveshark are blocked to anyone outside of the UK. Then there's all the music uploaded to YouTube, which is blocked in various parts of Europe, depending on the strength of the music industry lobbyists. To some people however, these constant attempts by the media industry to segregate users according to geographic location seems unfair The way around this issue is to use a VPN (which stands for Virtual Private Network) program, such as TunnelBear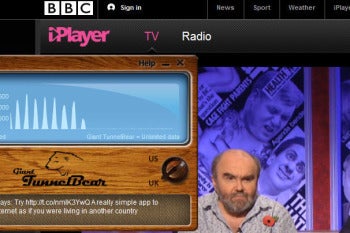 Basically what a VPN does is provide you with a temporary new IP address, which makes the blocked service think you are living in a country where it's allowed to view the content you are trying to access. We can't stress enough that using a VPN is perfectly legal, so you don't have to worry about the cops kicking your front door down with an arrest warrant just for having this software (unless of course you're using the VPN service for something illegal). But a lot of VPN's are not good enough to fool services like iPlayer and Hulu, so to a certain extent, their usefulness is limited. Plus VPN's come and go so fast, it's hard to keep track of them all.
TunnelBear is one of the exceptions. This lightweight software app is able to access both US and UK websites with literally the flick of a button and so far, there doesn't seem to be a website it can't handle. There is no lag, it's very fast and it is extremely simple to use. There's zero set-up required which means even the most tech-ignorant user can handle it with ease.
For those who like their software goodies free, TunnelBear provides everyone with 500MB free every month (and an additional 1GB per month free if you tweet about them on Twitter). But regular usage of the app means that this 1.5GB is soon gone. Which means that if you intend to use TunnelBear for more than listening to some songs or watching a couple of TV programs every month, you will have to look at upgrading to the unlimited plan which costs a mere $5 a month. For the high-quality app you're taking advantage of, $5 a month is a great deal.
What's even better is that paid customers can use TunnelBear on the iPad and iPhone. So wherever you have an Internet connection, you can set up a VPN connection with the setup details provided by the developer and you can sit on your couch or lie in bed and listen to Pandora or watch a TV program on BBC iPlayer.
VPN services come and go all the time, but two of TunnelBear's competitors at the moment include BTGuard and LogMeIn Hamachi. Price-wise though, TunnelBear wipes the floor with them.
If you're looking for a reliable cheap fast VPN, give TunnelBear a go. I get the feeling you won't be disappointed.
—Mark O'Neill