At a Glance
Expert's Rating
Pros
Removes HTML tags and formatting
Keeps clipboard history on desktop
Keyboard shortcuts and macros
Cons
Cloud storage not free
Potential loss of privacy if data copied and left
Our Verdict
When basic cut-and-paste doesn't do the job, ClipboardFusion will.
It's happened to all of us at one time or another. We get an email or a block of text, and we want to copy/paste it into another email or word processing document. But when we copy the text, the formatting comes with it. The text is then too big, the links are still embedded, there's lots of white space and paragraphs, and generally everything is a big mess that takes time to sort out. That's where free program ClipboardFusion comes in to save you a big headache.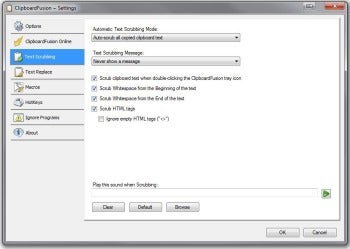 ClipboardFusion is a small Windows desktop app which sits in your system tray and waits for you to copy/paste something. It will then remove all the formatting, white space, and HTML tags, so what you're left with is just pure text. You can then paste it into an email, Word document, or other program.
But I would be doing ClipboardFusion a severe injustice if I implied that was all it did. A few other features make this a great app to have running in the background of your PC. First of all, you can assign keyboard shortcuts for all of CF's features. So for example, using a keyboard shortcut, you can toggle the app on and off without even taking your fingers off the keyboard.
You can also replace certain text strings with pre-defined new text strings. So for example, maybe you want all '&' to be replaced by "and" (or vice versa)? Or perhaps you want to replace the name of something with another name? It's entirely up to you. You just need to maintain a list of text strings inside CF's options that are to be automatically replaced as soon as you copy the text. It's very similar to the find-and-replace feature in Microsoft Word, but it works across all your programs. If you have copied images to your Windows Clipboard, then CF will give you a preview of those images in a pop-up window. You can see at a glance what you have copied. That same pop-up window will also show you RGB color codes if you copied them too.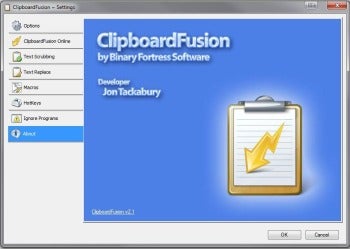 But ClipboardFusion's best feature is the macros. Using pre-defined scripts, you can make your copied text do almost anything. And what's even better is that a small CF community makes and contributes macro scripts that you can copy and use. For example, one macro cleans up long, unwieldy Amazon URLs in the Clipboard. Another counts the number of words in a copied block of text.
Don't copy anything to the clipboard that might cause trouble for you if it got out. Of course, you can just wipe the app's history afterwards, but you may not always remember to do that. Play it safe.
A paid option lets you store your clipboard pastes in the cloud on ClipboardFusion's website servers. A one-year subscription costs $16, two years costs $24, and a lifetime subscription costs $35 (all prices in Canadian dollars). Some may like the convenience of having their copied Clipboard pastes online for easy access and convenience, but others may not like the privacy and security implications of anything sensitive being transferred to the company servers.
ClipboardFusion's free desktop app is well worth downloading if you do a lot of copy/pasting. Just remember to clear the clipboard history, if there's anything embarrassing on there, to save yourself any potential repercussions later.
—Mark O'Neill