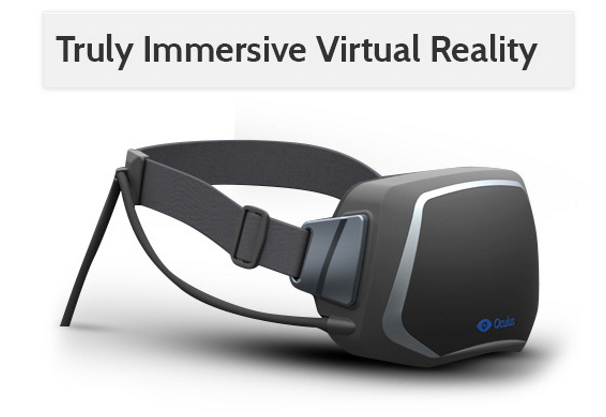 As the world of gaming has evolved over the past few decades, there have not been many problems that developers couldn't solve. From backwards compatibility, to digital downloads, to robust online infrastructure and even stereoscopic 3D, it may seem as if there is nothing video games can't accomplish. Except for one thing—virtual reality.
Ever since the catastrophic failure of Nintendo's Virtual Boy, the idea of bringing affordable virtual reality back into the mass market has been practically abandoned. Now, 15 years later, the creators of the Oculus Rift virtual reality headset believe they have finally found a way to make VR viable, and the influential gaming icons that have tried out the device have nothing but positive things to say.
The technical specifications for the early developer's prototype of the Oculus Rift are extremely promising: The Rift has a resolution of 1280×800 (640×400 in each eye), head tracking with six degrees of freedom, a 110 degree diagonal field of view, support for DVI/HDMI and USB inputs, and the entire unit weighs less than half a pound.
As stated in the product's Kickstarter page, there are plenty of VR headsets on the market, but to find one that "deliver[s] a truly immersive gaming experience," consumers would typically have to spend thousands of dollars. The Rift has been built with price in mind, finding ways to engineer an additive experience for gamers while keeping the cost relatively low.
The key to the Rift's success is integration with current and future games, so it's a good sign that id Software has decided to include the upcoming DOOM 3 BFG Edition as the first Oculus-ready game with every dev kit on Kickstarter.
It has only been a few hours since the Kickstarter went live, but as of the time of writing, the project has already well exceeded its goal of $250,000. If the guys behind the project can actually deliver on the Oculus Rift, virtual reality gaming might not be too far off! Head over to the product page to see more detailed information about the Oculus Rift headset.
[Oculus Rift via Kickstarter]
Jacob Siegal spends a vast majority of his time surrounded with and invested in technology and media, so he decided he may as well start writing about them. You can find more of his writing at Game Rant and his topical tweets @JacobSiegal.
Like this? You might also enjoy…
Get more GeekTech: Twitter – Facebook – RSS | Tip us off