At a Glance
Expert's Rating
Pros
Fast
Excellent output quality
Cons
Expensive memory upgrades
Our Verdict
Outstanding speed and output quality highlight this high-capacity, 1200-dpi color laser printer.
The $1199 (as of July 30, 2012) Lexmark C748de is among the fastest color laser printer we've tested, and its output is second to none. The unit's 1200-by-1200-dpi print engine resolution plays a major role in achieving such high-quality prints: Photos are reminiscent of an inkjet's ( a good thing), and text is both supersharp and superblack. Toner costs are quite good, too, though cartridges are available only in high-volume sizes–as befits a corporate printer for large workgroups that has a capacity expandable to 4300 pages.
Setting up the C748de is a breeze. The HTML Web interface and printer dialog areas are competently rendered, and the machine comes with both PCL and PostScript drivers. The front panel includes a numeric keypad for entering passwords and passcodes for secure print jobs, as well as a 4.3-inch touchscreen control panel. The touchscreen is easy to read, but regrettably Lexmark recessed it too far into the unit: The scroll bar and other graphical elements are uncomfortably close to the edge of the screen, and the surrounding lip makes touching them slightly awkward. Aside from that drawback, the C748de is very easy to use.
The C748de seems sturdily built. The motherboard and its open SODIMM slot for expanding the unit's memory lie behind a metal plate. To remove the plate, you loosen the screws and then slide the plate up slightly. To our great disappointment, Lexmark charges ludicrous prices for memory upgrades: $600 for 256MB or $860 for 1GB. You can buy standard DDR2 memory online or at your local computer store for a fraction of what Lexmark will charge you–and we recommend that you do so.
In its base configuration, the C748de offers an internal 550-sheet tray and a 100-sheet multipurpose feed–plenty of capacity for most workplaces. If you need more capacity or flexibility, you can buy $299, 550-sheet paper trays and specialty media trays for $299 each, and a 2000-sheet stackable feeder for $599. These add-ons can increase the height of the unit considerably, so Lexmark also sells an optional, caster base ($349) that lets you place the unit on the floor and roll it.
The C748de is fast by any standard, and finished second only to the Dell 5130cdn in our tests. It prints monochrome pages (mostly black text with a few simple monochrome images) at 18.7 pages per minute on the PC and 17.9 ppm on the Mac. On plain-text documents, the output rate reaches about 27 ppm. Snapshot-size, 4-by-6-inch photos print at 3.4 ppm to both plain and laser glossy paper. Full-page photos print at 1.8 ppm. The quality of the output is top-notch, with extremely sharp text, deep blacks, and photos that compare well in smoothness and detail with those produced by inkjets.
The C748de's toner cartridges have a low cost per page in any case, but they're even less expensive if you agree to use "return-program" cartridges that go back to Lexmark after use. Follow those rules, and the 12,000-page high-yield black cartridge ($197) costs 1.6 cents per page. The 10,000-page high-yield color cartridges ($252 each in cyan, magenta, and yellow) cost about 2.5 cents per color per page. A generous bonus: The printer ships with the high-yield supplies. The colors are also available in a lower-capacity, 7000-page size for $246, for a rate of 3.5 cents per color per page. With no return agreement, expect to pay 2 cents per page for black and between 3.3 and 4.6 cents per page per color (for high-yield and standard-size colors, respectively). Other consumables, such as the toner tray, add about 0.2 cent to the cost of each page.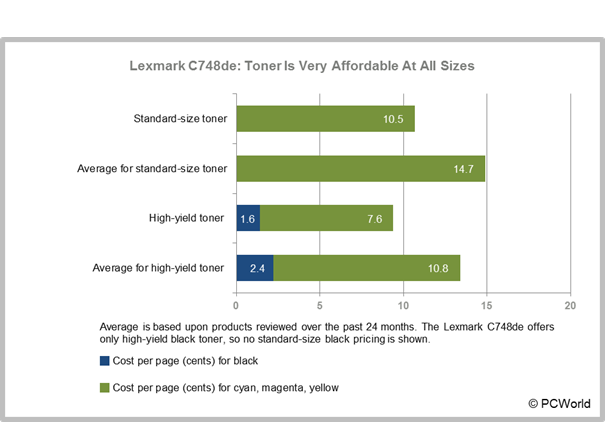 The C748de's official monthly duty cycle is 100,000 pages, but Lexmark's recommended monthly page volume is 2500 to 10,000 pages–considerably higher than you'll see for sub-$1000 color laser printers. The warranty is on-site for a single year; extensions are available, from one year for $219 to four years for $699.
Though it's pricier than most of the color laser printers we review, the Lexmark C748de delivers better-quality output and uses cheaper toner. If you print a lot–and you shouldn't consider this corporate printer unless you do–it will save you money in the long run. Just avoid purchasing your memory upgrades from Lexmark. One competitive, but much older, alternative is the HP Color Laserjet Enterprise CP4025dn.