Logitech launched a new high-definition webcam for TVs, able to run Skype videoconferencing software without the need for a PC.
The webcam, launched Friday, runs a customized version of Skype, and comes with a remote control for controlling the Skype software and zooming images in and out. It has a wider-angle lens than traditional webcams, Logitech said.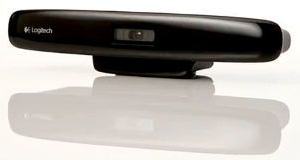 It perches on top of a TV and connects via HDMI. It also has an Ethernet port for Internet connectivity, and a power jack for the supplied power adapter.
"You don't need a PC, smart TV or any other hardware to connect your camera. All the elements are built into the TV Cam HD," said Glen Kuo, product marketing manager at Logitech, in a video posted by Logitech on YouTube.
Users can log in to multiple Skype accounts using the webcam. An Ethernet port connects the webcam to the Internet.
The webcam also operates like a Skype telephone, and has a ringer that buzzes when somebody calls. Users can take calls even when the TV isn't on, and the webcam has four microphones to improve audio quality. The webcam needs to remain powered on to receive calls and has its own power supply.
The $199.99 TV Cam HD will become available in the U.S. in August and in Europe in September.
Similar webcams are already available in Skype's online store. One brand, the $224 Tely HD from Tely Labs, works with all TVs, while the other models will only work with TVs of a specific brand.