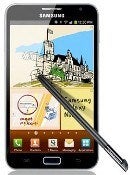 Samsung plans to reveal its follow-up to the 5.3-inch Galaxy Note smartphone in late August about two weeks before Apple is expected to launch the latest iPhone handset, according to an online report. The new Note device is expected to debut at a Samsung press event two days before the IFA tradeshow kicks off in Berlin.
"We plan to unveil the next Galaxy Note at the Samsung Mobile Unpacked event in Berlin on August 29," an unnamed Samsung spokesperson told Reuters. Samsung did not immediately respond to a request for comment.
Speculation about a Note follow-up has been building in recent weeks, with reports of a Samsung mystery device showing up on benchmark sites in July. Little is known about what to expect for Samsung's follow-up to the Galaxy Note "phablet." Leaked specs from the benchmark sighting suggest the phone will be running a 1.6GHz quad-core processor. But that mystery phone was also using 1280 by 720 resolution while the original Galaxy Note displays at 1280 by 800.
Apple Bash
Samsung's latest phone launch comes just before Apple is expected to unveil the newest iPhone, which is expected to be running iOS 6, feature a larger screen, and possibly have NFC capabilities.
Apple and its South Korea-based rival are also embroiled in a world tour of litigation that went to trial in the U.S. on Monday. Apple accuses Samsung of copying the iPhone maker's designs, while Samsung is going after Apple for several alleged patent infringements.
Galaxy Tab 10.1
Samsung is also planning an event for mid-August in New York, where the company is expected to release the Samsung Galaxy Note 10.1 tablet. Samsung's Note 10.1 is an Android-based tablet featuring pen input.
The company introduced the Note 10.1 in February during Mobile World Congress in Barcelona. It's not clear whether the Note 10.1 will run Android 4.0, Ice Cream Sandwich at its release, or instead run or version 4.1, Jelly Bean, the latest version of Android, unveiled in June.
Connect with Ian Paul (@ianpaul) on Twitter and Google+, and with Today@PCWorld on Twitter for the latest tech news and analysis.