An important part of your morning routine once you get out of bed may be to get the sweet fix of caffeine. You might not want to mix up your coffee machine with this impressive Nintendo mod, though–unless you wake up for a quick gaming fix rather than a hot beverage.
The Super Nincoffee Jr is a father-son project by Tyler Hunt and his dad. It's a small Mr Coffee machine that's rewired to let you play all your favorite SNES titles.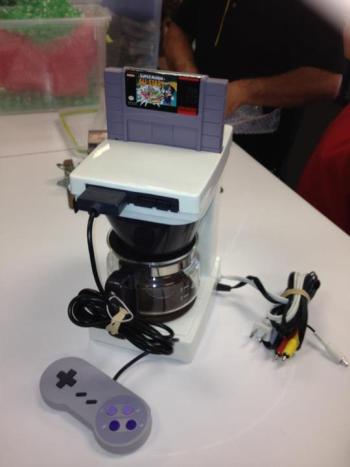 We don't know much about how the two coded the mod, but what we do know is the mod will not make you coffee while you play. All the inner wires and components are stored away in the Mr Coffee body, so on first look, it seems to be a normal coffee machine. You hook it up to your TV using RCA cables, and once you've picked a game, you place it in a slot on top of the machine. The build includes a number of additional ports that you would come to expect when using a typical SNES console too, so nothing is left out.
The mod isn't the duo's first attempt as Nintendo-coffee machine mods. Earlier in the year, they produced the Super Nincoffee Entertainment System , which took about a month to build. Of course, the success of this newer build is that it's a console in a much smaller space.
While you don't see much of Tyler's dad, it's pretty cool to see a father-son team working together on projects such as this. It will be interesting to see what kind of hacks Tyler will show off in the future over on his YouTube channel.
[Facebook and YouTube via Kotaku]
Like this? You might also enjoy…
Get more GeekTech: Twitter – Facebook – RSS | Tip us off | Follow Elizabeth Fish