At a Glance
Expert's Rating
Pros
Downloads in various formats and sizes
Can auto-detect YouTube URL's in Windows clipboard
Extremely simple to use
Cons
Tries to push bloatware during installation
Nag screen when exiting promotes paid software
Our Verdict
Download video from YouTube and save it as AVI, FLV, MP4 video on your PC.
YouTube video downloading tools come and go, and most of them are not really that good. They're slow cumbersome, and so mired in banner advertising and pop-ups that it's easy to give them up. But one free tool that stands out from the crowd in a really big way and makes downloading YouTube videos a delight is Free YouTube Download.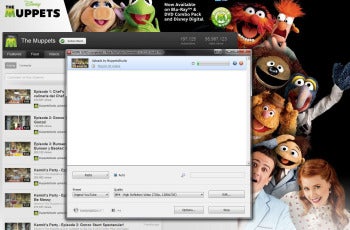 What makes FYD different from the others? Well, apart from its ease of use, it lets you download complete YouTube playlists, videos from a YouTube channel, and even video responses to videos, simply by cutting and pasting the necessary link. Downloading is fast, the quality is excellent, and during downloading, the advertising isn't in your face(compared to what many of FYD's rivals do), which is always a bonus in my book.
Free YouTube Download is extremely simple to use. After installing it, open it up and you will see the download window. Beneath that is where you choose your file format and your quality. Once you have made your choices, copy/paste the desired YouTube URL into the main download window and let FYD take care of the rest.
One of FYD's really neat features is its ability to auto-detect YouTube URLs in the Windows clipboard. So if you have FYD open, and you copy/paste a YouTube video link, it will immediately appear in the main FYD download window, ready to download. Some people may find this irritating and turn the feature off. It just all depends on how intuitive you want your software to be.
One big warning: During the installation process, the company attempts to persuade you to install a toolbar and other bloatware. This can be easily avoided by paying very close attention to what boxes you are checking and what you are agreeing to. Plus, everytime you close FYD, you get a nag screen giving you the sales pitch for a paid app. You can easily close this, but it does get tiresome after a while. It's these drawbacks which prevents FYD from getting 5 stars.
From time to time, YouTube changes their video files hosting which means that FYD can temporarily stop working while DVD VideoSoft works to amend their software. Therefore it is recommended that you follow their Twitter page for status updates.
—Mark O'Neill