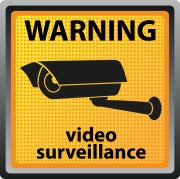 Webcams are good for holding video chats. They're also appropriate for snapping a few shots when they detect motion, and then emailing the photos to you. For more-thorough monitoring and protection, however, you should turn to another class of cameras, called IP (Internet Protocol) video cameras.
IP video cameras can monitor your home or office in real time and alert you to suspicious activities. They also can record events, producing valuable evidence that you can turn over to law enforcement officials in the wake of vandalism, a robbery, or some other crime. You can even incorporate some cameras into home automation and alarm systems.
While some IP cameras are designed strictly for indoor placement, others are weatherized for outdoor use. Better-quality models carry a two-digit IP rating (though in this case, the initialism stands for "ingress protection"). The IP-rating system, an international standard, specifies the degree of protection that a camera's enclosure provides against solid objects (indicated by the first digit) and liquids (indicated by the second digit).
Unlike a Web camera, an IP camera doesn't rely on a local computer. Typically IP cameras also have better optics than webcams do, and they remain connected to the Internet 24/7, so you can monitor them—and the recordings they've made—from anywhere you have Internet access.
Recently we put two new consumer models (D-Link's DCS-5222L and Trendnet's TV-IP572WI) and one professional model (Axis Communications' M5014 dome camera) to the test. For our impressions, see the reviews linked below.