At a Glance
Expert's Rating
Pros
Nice interface
Easy to use
Cons
Password generator is clunky
Our Verdict
Efficient and effective, and free, Norton Identity Safe is a useful password manager.
Users of Symantec's Norton line of security products have long had access to its password management tools. But you no longer need to be a paying Norton user to get access to Norton Identity Safe, a standalone product that makes password management a (relatively) easy task.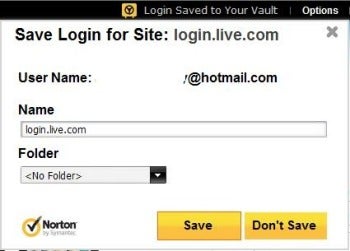 Once you install Norton Identity Safe, you'll need to set up an online Norton account, or link Identity Safe to your existing account. You'll also need to set a master password for access to your Vault, which stores all of your login information. That's it: setup is simple. And then you're good to go: You simply surf the Web as you normally would. Norton's Identity Safe installs as a toolbar on your browser, and it works in the background, capturing your passwords as you go. Anytime you enter a password, Identity Safe saves your login details to your Norton Vault, notifying you of the activity via a small bar that appears on the top of your browser screen. The next time you visit that site, Identity Safe automatically logs you in. Rival product LastPass offers users slightly more control for users, as it asks you each time it saves a password. But if you want your password manager to save absolutely everything, Norton's approach will save time.
Identity Safe also captures personal details that you can use to fill in forms, and saves these profiles as Identity Cards, so you can speed up the process next time you need to enter the info. To manage your logins and Identity Cards, you click the Vault icon that Norton installs on your browser. This lets you bring up Identity Safe's organization tools, which are neatly arranged, making it easy to handle tasks like creating sub-categories of logins.
Identity Safe also evaluates the strength of your passwords and offers tips on creating stronger passwords, but its built-in password generator is a bit clunky. You have to visit Identity Safe's Web site to generate a password, which you then copy and paste back to the site where you'd like to use it. LastPass, meanwhile, generates a password for you seamlessly, without making you leave the original Web page. It's a much more elegant solution.
Still, Norton Identity Safe is a handy password manager with a slick interface. It's available as a free download until October 17, 2012 (Norton has not said what, if anything, it will charge for it after then).
Note: The Download button takes you to the vendor's site, where you can download the latest version of the software.
—Liane Cassavoy