At a Glance
Expert's Rating
Pros
Excellent audio quality
Unique, widescreen display
Cons
Keyboard lacks feedback; touchpad too sensitive
Display colors seem muted; limited viewing angles
Our Verdict
This elegant-looking laptop targets movie buffs, but it's not a good choice for productivity or gaming.
Best Prices Today: Satellite U845W-S410
This is a unique time in the PC business. After years of turning out boring, 15.6-inch laptops and midsize-tower desktop PCs, PC makers are experimenting with new and intriguing designs. Case in point: the Toshiba Satellite U845W. Available in two preconfigured models, the S410 and S414, the ultraportable U845W ships with a 14.4-inch LCD panel whose native resolution of 1792 by 768 pixels translates to an unusual 21:9 aspect ratio–perfect for viewing widescreen movies without letterboxes.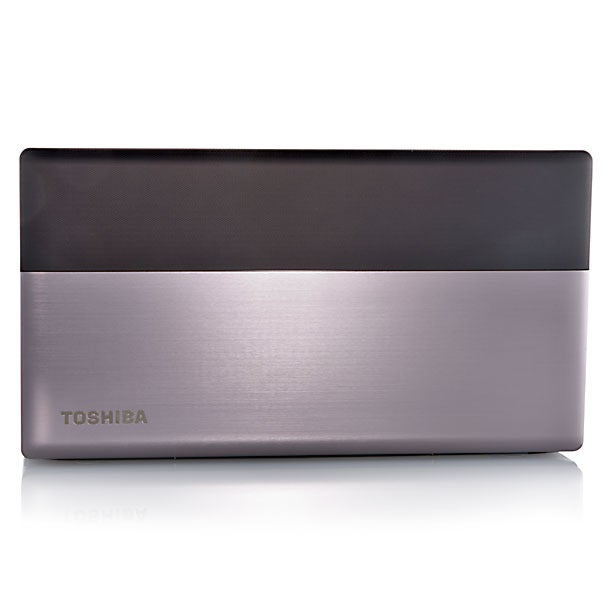 I examined and tested the lower-priced S410 model ($930 as of August 5, 2012). The key differences between the S410 and the S414 ($1430) relate to processor and storage: The S414 ships with the higher-end Core i7-3517U CPU and a 256GB solid-state drive. The S410 carries a 1.7GHz Core i5-3317U processor with a maximum turbo boost to 2.6GHz; a 500GB, 5400-rpm hard drive handles storage, and a 32GB caching SSD that uses Intel's RapidStore boosts hard-drive performance.
The Satellite U845W's attractive metal chassis is partly covered with black, textured rubber. The rubber makes the Ultrabook easy to carry, and the laptop has an elegant air. When you open it, you'll find a standard, Chiclet-style keyboard with flat keys that lack any sculpting or texture. The pointing key cluster is nearly full-size, and is set slightly apart from the keyboard. Toshiba takes advantage of the extra chassis width needed by the wide screen to add a column of discrete Page Up, Page Down, Insert, Delete, and Home keys, so you don't need to mash the Fn key repeatedly in order to navigate pages. Bracketing the keyboard are two massive (for a tiny laptop) speaker grilles.
Aiming for Movie Buffs: a Near Miss
The U845W ostensibly targets film buffs who, while they're on the go, want to view movies without letterboxes. At the same time, Toshiba positions the U845W as a member in good standing of the Ultrabook club. The result is a laptop with contradictory tendencies. The ultrawide screen's viewable width is over 13 inches, but its viewable height is just 5.75 inches high. Most 13.3-inch laptops with 16:9 widescreeen LCDs offer a viewing height of almost 7 inches. Text is very small unless you adjust Windows' DPI scaling in the display control panel. On the other hand, if you're willing to squint a little, you can easily open two document pages side-by-side for convenient comparison.
The other contradiction involves viewing movies. The U845W weighs just 4 pounds and is barely 0.83 inch tall when closed, meeting the Ultrabook spec requirements in both respects. But to satisfy these criteria, Toshiba had to omit an integrated optical drive from the laptop; and the company offers only a USB-connected DVD drive–not a Blu-ray drive–as an option. Though Toshiba does ship a wide-aspect-ratio plug-in for Windows Media Player, that arrangement seems like a stopgap. If you don't have an external Blu-ray drive, you're limited to streaming media. You can find 21:9 aspect ratio films, but they're less common than you may think. Many widescreen titles streamed over Netflix (the most common source for streaming movies today) are reformatted for 16:9 high-definition screens. A few titles start in 21:9 in the credits but then switch to 16:9 once the actual movie plays.
Unfortunately, with 16:9 content, you end up with gray side pillars–the other type of letterboxing–on the U845W's screen. True 21:9 content looks pretty good, though colors seemed slightly washed out in my viewing tests, and brightness seemed lacking, even when we turned up the backlighting. Vertical viewing angles were rather poor, which poses a significant problem with such a vertically constrained screen space.
The Sound and the Fury
Whereas the U845W's display is mildly disappointing, its sound quality is top-notch. This laptop plays music and movie content louder than any Ultrabook I've used to date. In my audio tests, sound remained clean and relatively neutral until volume levels crept past 75 percent, at which point I began to hear some distortion. SRS Premium Sound 3D widens the sound stage a bit without adding many objectionable audio artifacts.
I played music ranging from rock to pop to classical to acoustic jazz, and the U845W's overall audio quality left a positive impression. Movie content fared less well, only because these tiny speakers can't do justice to the LFE deep bass effects present in most action movies; you won't notice that shortcoming in lighter fare, however. The speakers aren't a match for dedicated external speakers or a good set of headphones, but they're astonishingly good for their size.
Performance
The U845W earned a score of 78 on PCWorld's overall performance assessment, putting it on a par with other systems in its class. Owing to the laptop's odd aspect ratio and its reliance on Intel's HD 4000 integrated GPU, gaming performance is limited; but casual gamers and others willing to dial down the machine's resolution and detail levels can get playable results, albeit in a viewing window with unusual dimensions.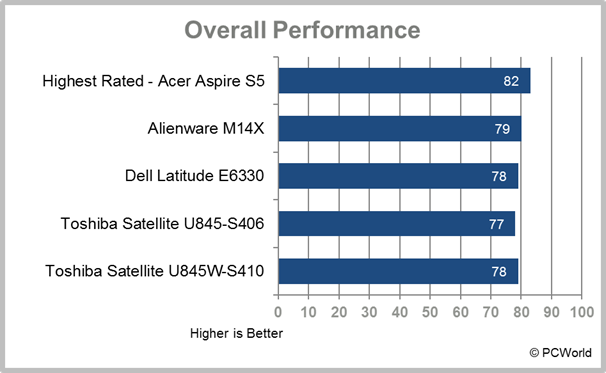 The laptop's score of 130 on PCWorld Labs' WorldBench 7 test suite is lower than the marks that many systems in its class have posted. Its sluggishness may be due in part to the LCD's extremely high pixel count, and in part to the system's relatively slow hard drive.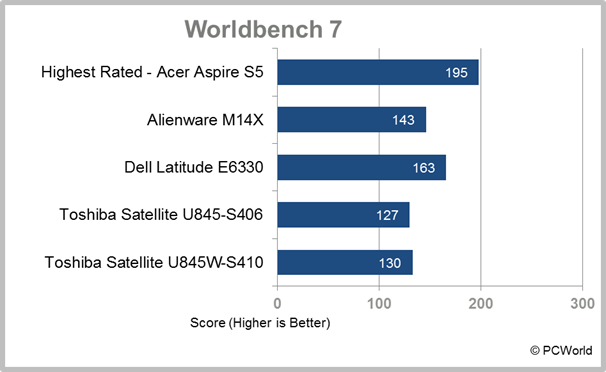 Storage performance is a mixed bag. The system starts up quickly, thanks to the SSD cache; but the 5400-rpm hard drive hobbles overall storage performance.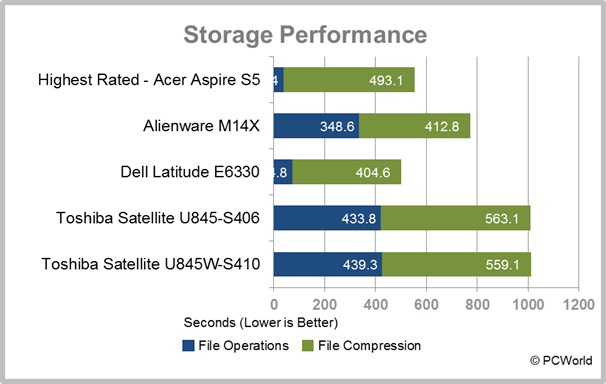 In PCWorld Labs' battery life test, the U845W ran for 6 hours, 33 minutes on a single charge, which is more than sufficient to enable you to watch movies throughout a cross-country flight.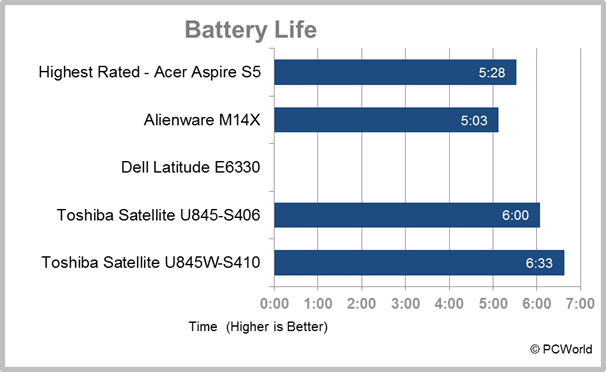 Ports and Connections
Toshiba includes three USB 3.0 ports with the U845W, so you won't have to juggle slower versus faster ports. One of those USB ports can charge a phone or other small device while the laptop is asleep. You also get separate audio input and output jacks, a memory card slot (for SD Card and Sony Memory Stick media), HDMI output, a Kensington lock slot, and a partially retractable ethernet jack.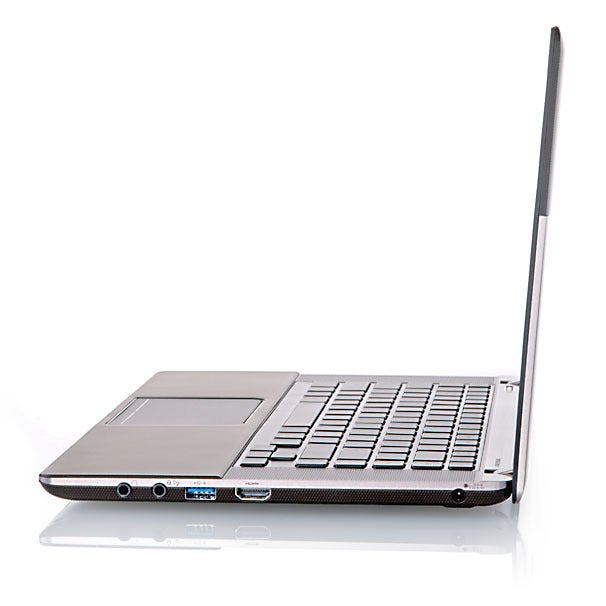 Conveniently, the ethernet jack allowed me to connect to my internal gigabit ethernet network. The U845W also includes 802.11n, Bluetooth, and–in case you want to spring for the TV attachment accessory–Intel's WiDi for displaying content on HDTVs. Overall, it's a nicely rounded set of connectivity options, lacking only cellular broadband.
The keyboard provides little tactile feedback; and because the flat keys are slick, my fingers often slipped onto the wrong keys while touch-typing. The clickpad worked fairly well, though trying to context-click resulted sometimes in a weird lag between the click and the onscreen results. All in all, this laptop isn't a great choice for writers.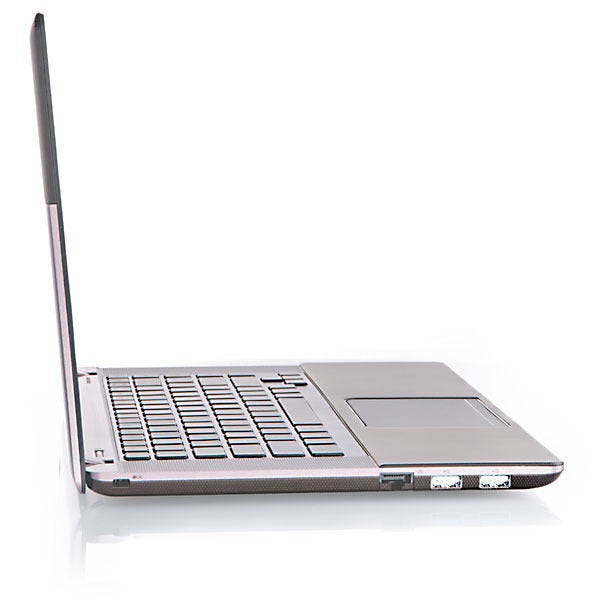 Cut, Wrap, and Ship
The U845W ultimately shapes up as an executive toy rather than as a serious attempt to address the needs of mobile film buffs. The 21:9 display comes across as a gimmick, especially when you factor in the omission of Blu-ray even as an option. You can always seek your own external Blu-ray drive, but this system cries out for better widescreen movie sources. In addition, the display quality fell short of my expectations. And for me, the excellent audio quality didn't overcome the system's deficiencies.
Still, it is a cool-looking laptop, and would be great for casual use. It will certainly turn heads and be a conversation starter. But if you need a laptop to get work done, you can find better alternatives.
Best Prices Today: Satellite U845W-S410