One of the things they never tell you in school is that no matter what career you choose, you only spend about 20 percent of your time doing the really fun stuff. When I wear my writing hat, for example, I find that I spend about 80 percent of my time on administrative details (generally, stuff related to planning) to write. Likewise, as a photographer, a huge part of my time is related to what you might call file management, which includes tagging, organizing, and sizing photos for their intended publishing destinations. Recently, we discussed cropping and resizing but this week, I have an even better way to resize your photos.
Why Resize?
From the mail that I get, I know that many of you need to publish photos in places like Web sites, blogs, and newsletters. Especially on the Web, where Websites and blogs often use templates that do really funky things if you use photos that are the wrong pixel size, it's important to make sure your photos are sized properly—part of the 80 percent of things you do when you'd rather be writing or taking photos.
Here's the thing: Resizing photos is kind of boring, and using the technique I described a few weeks ago (using the Image, Resize, Image Size menu in Photoshop Elements) is a very manual process that can take a lot of time if you have a slew of photos to resize at once. It is true that using certain photo editing programs, you can batch resize or automate the process, but that can be overkill and setting it up can be just as time-consuming as using the manual method. There's got to be a middle ground.
Resize with VarieDrop
And there is. Recently, a friend turned me on to VarieDrop, a clever little program that can resize photos to any number of different dimensions by simply dragging and dropping images. I suspect the program has been around for a while, but it's new to me.
Start by installing it from the Vieas Website. The program is free, though when it comes to support, you get what you pay for: The help is in Japanese, and not at all helpful, even after running the text through Bing Translate.
Nonetheless, you probably won't ever need the help. The program is very simple to use. It looks like this:
Drop your photo onto any one of the five areas shown in the screen shot, and VarieDrop will immediately resize your photo according to the preference of that individual area.
Here's an example: Suppose you want to use the same photo in two locations on your site. In the first slot, the photo cannot exceed 450 pixels wide. In the second, it must be 300 pixels wide. And let's say you also want to send the photo to your parents, so you'd like to make sure that neither dimension exceeds 800 pixels for email.
All that is easy to do with VarieDrop. Click the Set button for the first area and check the Resize box. Set the width to 450 and leave the height blank, or set it to 0 (which means that you don't care what the height turns out to be). Make sure that the Output Format is JPEG and the Quality is high (I'd set it to 100). Clear the Max File Size, since in this case we don't care how large the file is. Click OK.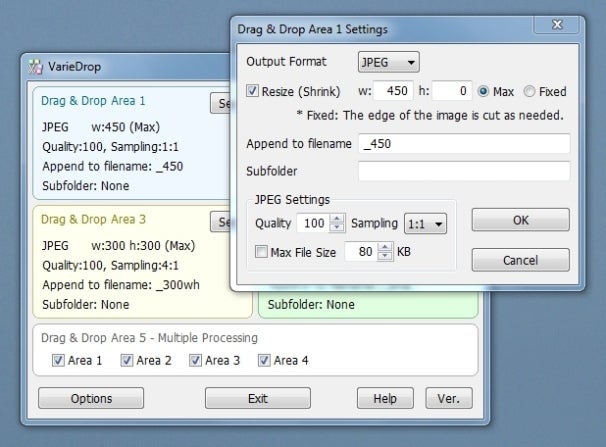 For the second area, repeat all the same steps, but set the width to 300. And for the third area, set both width and height to 800 to make sure that neither the height nor the width exceeds 800 pixels.
VarieArea has a few other tricks. You might have noticed that you can choose Max or Fixed. If you choose Fixed, the program will crop the photo to your specified size, which isn't a setting I would recommend. And you can set the output file type, such as JPEG, PNG, TIFF, and GIF. If you frequently need to convert photos to a specific format, you can reserve an area in VarieDrop for the desired format and turn off resizing, so the program becomes a one-step file format converter.
Finally, note that that area 5, at the bottom of the window, batch processes the dropped photo with all the settings from any of the other areas.
If you frequently need to resize or convert files among file formats, I suspect that VarieDrop will find a favored spot on your Start menu.
Hot Pic of the Week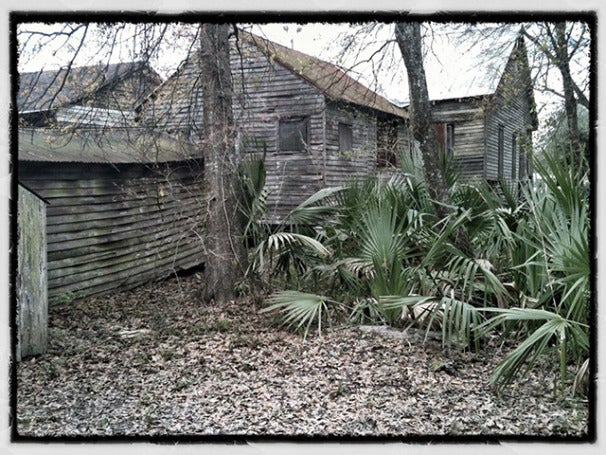 This week's Hot Pic: "Lost" by John Jubinville, of Baton Rouge, Louisiana.
John writes: "I found this old place near Pierre Part in the Atchafalaya swamp. Just looking at it gave me the feeling of being lost, so that's how I decided to title it. I used an Apple iPhone 3GS."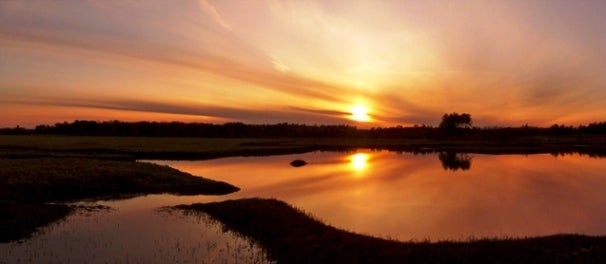 This week's runner-up: "Sunset at High Tide" by Eric Hoar, of Springvale, Maine.
Eric says: "This is a panorama made from three images taken at Parsons Beach in Kennebunk, Maine. I preset the camera to ISO 400 and warmed the white balance. I adjusted the brightness, contrast, and color balance to pull the marsh out of being a total silhouette. I tried to restore the sky and reflection back to where I remembered it when I shot the scene."
Have a digital photo question? Email me your comments, questions, and suggestions about the newsletter. And be sure to sign up to have Digital Focus emailed to you each week.