Although eBay is best known for online auctions, the company is now testing the waters of same-day retail delivery with a service called eBay Now.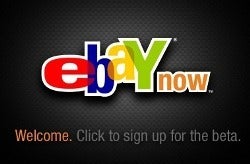 The service has launched in beta for residents of San Francisco only. Through an iPhone app, users can order products from partnering retailers such as Macy's, Target, and Best Buy, and receive them the same day.
Deliveries cost $5 each, and the service is only available for purchases over $25, but beta testers get a $15 credit on their first order, and free shipping on their first three purchases.
Products take at least an hour to deliver, and orders must be placed at least a half hour before the store closes. Otherwise, the service is available Monday through Saturday from 9 a.m. to 9 p.m., and on Sunday from 9 a.m. to 6 p.m. The new service was spotted and reported first by TechCrunch.,
At the moment, eBay Now is only open to a short list of invitees, but anyone can sign up for the beta online. (I tried to sign up, and was told that I would receive an e-mail once the iPhone app was available.)
Join the Club
eBay isn't the only company interested in online shopping with same-day delivery. Amazon already offers same-day shipping in ten major U.S. cities, but its base rate is more expensive than eBay's at $8.99 per shipment (plus 99 cents per item), and all cities have cutoff times of noon or earlier. Slate's Farhad Manjoo recently speculated that Amazon is working on an expanded same-day shipping service, but the company still insists that it's not feasible "on a broad scale."
Start-ups such as Postmates and Instacart also offer same-day delivery of groceries and other goods in the San Francisco area. They're reminiscent of dot-com era startups such as Kozmo, which used couriers to deliver products from virtually anywhere (though they've learned from Kozmo's mistakes by instituting flat delivery fees on every order).
It's worth noting that all of these efforts are happening in major metropolitan hubs, mainly San Francisco. Same-day delivery is a lot easier when you're dealing with lots of potential customers in a small space.
Though I'd love to declare that physical stores face imminent doom, that would be premature unless online retailers can make instant gratification work in smaller cities and suburbs. This is just the beginning.
Follow Jared on Twitter, Facebook, or Google+ and follow Today@PCWorld on Twitter for even more tech news and commentary.