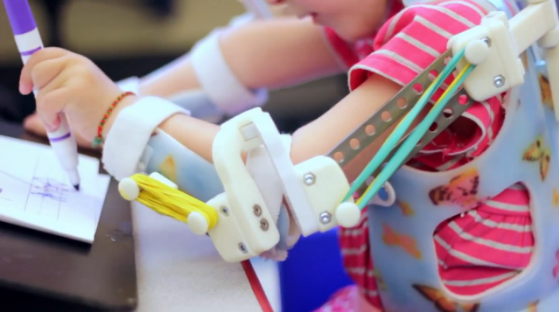 Thought you've heard everything about 3D printing? Think again: This exoskeleton for disabled children is printed from the same plastic as Lego bricks. The exoskeleton, called WREX, helps children who have limited use of their arms to perform daily tasks such as feeding themselves, drawing, and playing games with friends.
In the inspiring video, you can see Emma, who suffers from a congenital condition called Arthrogryposis that affects her joints and muscles. Emma inspired two scientists from Nemours/Alfred I. duPont Hospital for Children in Wilmington, Delaware to exchange the usual metal with the lightweight ABS plastic.
The WREX is not a new device: Disabled individuals who have difficulty using their arms can make use of a metal WREX, which is usually also attached to a wheelchair. However, the metal WREX is too heavy and clumsy for small children, who sometimes have perfectly good use of their legs and have no need for a wheelchair.
The ingenuity of the 3D-printed WREX is in its light weight, as well as its easy and quick production method. Once the plan is set out, the WREX folks can print parts over and over again, while adjusting them to the child's growing body. If a part breaks, the researchers can make a new one in no time–no unnecessary hauls for re-adjustments with the child.
Without the WREX, Emma can't lift her hands up to her face or use them to handle items in front of her. Now Emma can make use of her arms almost like a normal child, and the WREX grows with her as she develops. Currently, 15 children are using the 3D printed version of WREX, including Emma.
Like this? You might also enjoy…
Get more GeekTech: Twitter – Facebook – RSS | Tip us off