Need a powerful gaming laptop quickly? On Monday, Maingear launched the Vybe 15–a high-performance 15-inch gaming laptop that can be out the door in two days.
Maingear emphasizes on its press release the new "Quickship" line, starting with the Vybe 15, which ships within 48 hours of order confirmation. Getting systems out quickly is a notable feat for Maingear, which is a boutique computer builder that specializes in custom gaming rigs, but it's the Vybe 15's specs and prices that are more impressive. (After all, most major PC manufacturers, such as Dell and HP, have pre-configured laptops that ship out the next day or even the same day. In fact, we're even starting to see same-day delivery from merchants such as Amazon and eBay.)
The Vybe 15 comes in four pre-built configurations ranging in price from $1099 to $1999. All configurations have the essential hardware required for playing video games or editing multimedia, including third-generation Intel Core processors, Nvidia Kepler graphics cards (GeForce GT 650M or 660M), full HD (1080p) displays, and support for up to 16GB of RAM.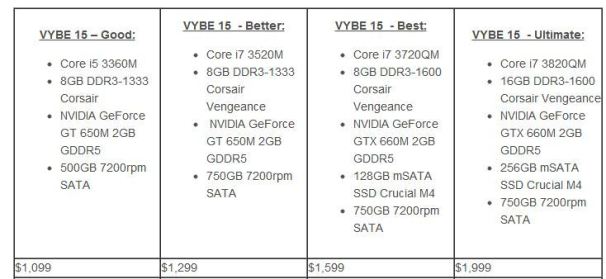 The Vybe 15 also has a DVD burner, a matte-finish display, and a full-sized keyboard with 10-key numberpad.
Some negatives: the Vybe 15's keyboard doesn't appear to be backlit, and Maingear doesn't specify size, weight, thickness, or battery life.
If you can't wait to get one of these systems as soon as possible, the Vybe 15 "Good" and "Better" configurations are available today, while the "Best" and "Ultimate" models will start shipping on August 17.
Follow Melanie Pinola (@melaniepinola) and Today@PCWorld on Twitter