The past few months have seen a flurry of Linux distribution updates, and this one is certainly no exception.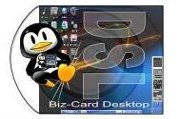 What's particularly intriguing about an announcement made last Friday, however, is that it's not just an ordinary update. Rather, news of this new release signals the return of a distro that hasn't published an update in four years.
It's Damn Small Linux, specifically, and it just rolled out a first release candidate for a brand-new version 4.11.
"The changes in this release are a step toward making DSL a friendly alternative for older hardware," wrote project leader John Andrews in an announcement last Friday. "I've fixed some bugs, updated some applications, and replaced others."
An Upgraded Web Browser
I actually wrote briefly about Damn Small Linux back in 2010, when I compared it with Puppy Linux, which at that time was No. 10 on DistroWatch's list of page-hit rankings.
Much like Puppy, Damn Small Linux is particularly well-suited for older and slow PCs. In fact, this latest .iso file weighs in at just over 50MB, so its footprint is diminutive, to say the least.
Application changes include updating the lightweight JWM window manager to version 2.1.0, which now supports rounding, as well as upgrading the Dillo Web browser to version 3.0.2, thus greatly improving CSS support, Andrews noted.
Also added to the new software are xChat 1.8.9, a sic 1.1 IRC client, and XCalc-color.
New themes, menu items, and other improvements are included in the free and open source operating system as well.
Perhaps most interesting of all about the announcement, however, were the comments Andrews made at the end.
'The Smallest Package Possible'
Noting that "kernel and hardware detection will be the exact same as 4.4.10, and obviously this release will not work with the latest hardware technology," Andrews explained that "that isn't my intention here."
Rather, "I see this version of DSL (what will probably be called 'classic' eventually) becoming dedicated to bringing a usable and friendly desktop in the smallest package possible," he added. "Classic DSL will remain ultra-portable, can be downloaded and run virtually quickly, and most importantly, will run on hardware that the rest of the world is leaving behind."
It remains to be seen what any future "non-Classic" version of DSL might look like, of course, but it's certainly a compelling prospect.
In the meantime, do you have an older PC that's groaning under the weight of other operating systems? If so, Damn Small Linux could be just the ticket to give it new life. The new release candidate is now available as a free download.