At a Glance
Expert's Rating
Pros
Bluetooth enabled
Very good multitouch touchpad
Cons
Limited port configuration
SSD only for system use
Our Verdict
The Toshiba Satellite U845-S406 is a thin, light, affordable system that will work well for business users on the go.
Best Prices Today: Toshiba Satellite U845-S406 Notebook
The Toshiba Satellite U845-S406 is a reasonably priced ultraportable laptop that still manages to pack quite a punch.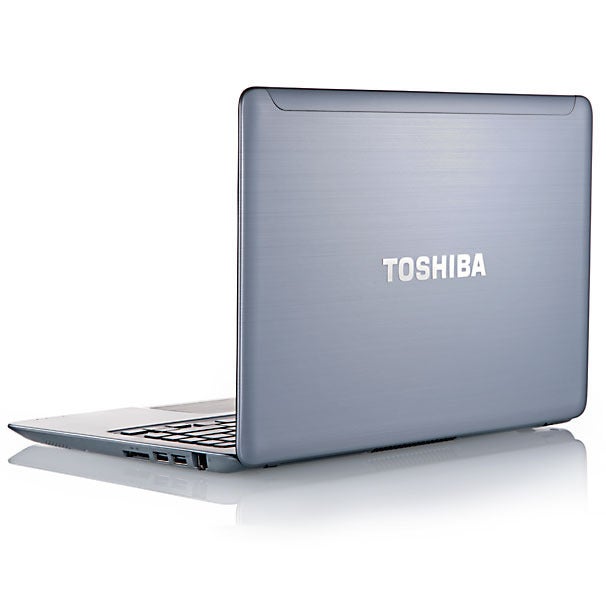 It comes equipped with an Intel Ivy Bridge dual-core processor (the Core i5-3317U) that has a stock speed of 1.7GHz, but can rev up to 2.6GHz when using Intel's maximum Turbo Frequency. Those specs won't impress power PC enthusiasts, but the Core i5-3317U can handle most stressful tasks with ease.
Performance
The S406 earned a mark of 127 on our demanding WorldBench 7 Benchmark Suite, which means that it scored about 27 percent higher than our base system–a desktop PC with a Core i5-2500K chip and a discrete graphics card. The system supports Intel's Smart Response technology. It ships with a small, 16GB solid-state drive for hard drive caching and a 500GB, 5400-rpm hard-disk drive for storage. The caching SSD probably boosted the system's WorldBench 7 score, and it also delivered average boot times of 17.3 seconds from a completely powered-off state to a fully functioning desktop.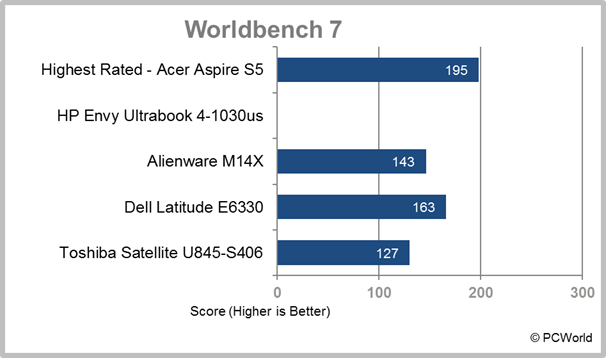 Like many other Ultrabooks, the S406 relies on Intel's integrated HD Graphics 4000 chip set, which supplies enough power to handle some less strenuous games, but not enough to avoid choking on our high-end tests. We ran two graphics-intensive games–Dirt 3 and Crysis 2–at a maximum resolution of 1366 by 768 pixels and high settings, and the S406 managed a measly 19 frames per second on Dirt 3 and 12.1 fps on Crysis 2. At a resolution of 800 by 600 pixels and low settings, it managed a frame rate of 42.4 fps on Dirt 3 and 26.9 fps on Crysis 2, bordering on playable.
In addition to its small SSD, which it uses as the Windows 7 cache drive, the S406 carries a 500GB 5400-rpm hard-disk drive for data and application storage. Using a small caching SSD alongside a slower hard drive reduces cost, but don't expect performance to be match that of a single, large SSD.
Usability
The S406 packs 6GB of DDR3 1600MHz memory and various connectors: one USB 3.0 port, two USB 2.0 ports, an SD Card/Memory Stick reader, an HDMI-out port, ethernet, and the typical headphone/microphone-out ports. It also has a front-facing camera and microphone for web-chatting. To save space, however, Toshiba omitted an optical drive; so unless you invest in an external drive, this won't be your go-to machine for disc-based movie watching.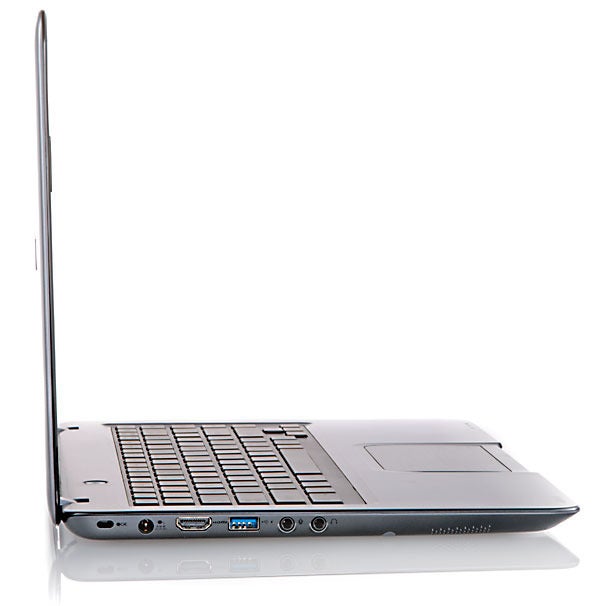 The pleasantly smooth multitouch touchpad is completely flat, with no texture at all. In my tests it was quick and responsive, and it didn't go rogue with a ton of missed clicks. As a user who swears by the mouse, I didn't feel like pulling my hair out after working with this touchpad for a while, and that's about the nicest compliment I can give a touchpad. The keyboard's keys, on the other hand, were a bit cramped, shallow, and stiff. Though responsive, they just weren't comfortable to type on.
The laptop is 802.11n Wi-Fi ready and Bluetooth enabled. The latter should enable you to find a much more comfortable keyboard to use than the built-in one. The option of adding accessories while not taking up any of the precious few USB ports is a plus.
The S406 weighs 3.7 pounds alone and 4.3 pounds with the included power adapter. The laptop measures 13.5 inches wide by 9 inches deep by 0.8 inch high. It is small enough to fit easily in a typical backpack,and yet it sports a 14-inch LED backlit display.
On our battery test, which cycles 10 minutes of video and then 10 minutes of typing, the S406 held out for exactly 6 hours.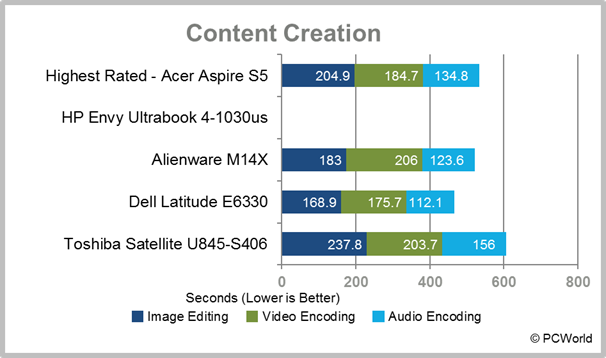 If you're looking for more power, albeit with a bigger hit to your wallet, the Acer Aspire S5 (priced at $1399 as of July 18) may be a better fit. It has a slightly smaller screen (13.4 inches) and a 256GB SSD, which significantly boosts performance.
Overall, the Toshiba Satellite U845-S406 is a great option if you need just a little extra power for work on the go, but don't feel like shelling out cash for a desktop replacement.
Best Prices Today: Toshiba Satellite U845-S406 Notebook