At a Glance
Expert's Rating
Pros
Good keyboard and trackpad
Attractive, different-looking
Cons
Screen is dim
Headphone jack is way too quiet
Our Verdict
This business-oriented Ultrabook has a dim screen and a quiet headphone jack–not ideal for on-the-go users.
It's interesting that Sony describes the VAIO SVT13114GXS as an Ultrabook that's designed to contain "all the connectivity ports that other Ultrabook laptops may lack," when it contains only two USB ports–both located right next to each other. Sure, it might have VGA- and HDMI-out ports, too, but that doesn't make up for the system's myriad issues.
This business-oriented Ultrabook is pretty and light, but if you're thinking about purchasing it, you really need to know what your priorities are. It has below-average general performance, a dim screen, and a clean-but-quiet headphone jack, but it also has an excellent keyboard and trackpad. So what's really important to you?
Our review model, which costs $849 as configured, has a third-generation Ivy Bridge Intel Core i5-3317U processor, 4GB of RAM, and a 500GB hard drive with a 32GB SSD as a hard drive cache. This VAIO Ultrabook also sports a 13.3-inch screen, 802.11b/g/n Wi-Fi, and Bluetooth 4.0, and runs a 64-bit version of Windows 7 Professional.
Performance
The VAIO SVT13114GXS (Sony really needs to work on its model names) performs a little below average for its class. In PCWorld's WorldBench 7 benchmark tests, the VAIO scored a decent 126, meaning the system is 26 percent faster than our testing model, which has a second-generation Intel Core i5 desktop processor, 8GB of RAM, and an Nvidia GeForce GTX 560 Ti discrete graphics card.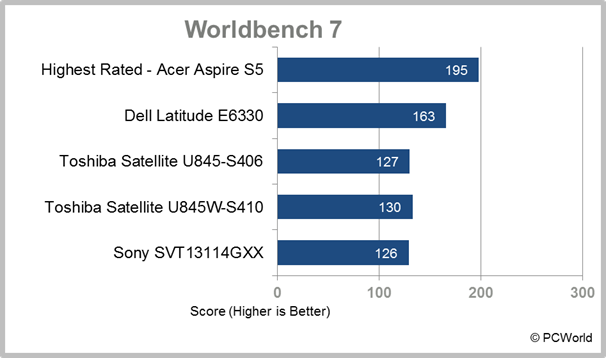 Though 126 is an acceptable WorldBench 7 score for an ultraportable laptop, it's well below the average score (140) of the last three laptops we've tested. It's also significantly below the WorldBench 7 score of the Acer Aspire S5 (195), which costs more and has a dedicated SSD. A better comparison might be the Dell Latitude E6330, which outperforms the VAIO in all of the business-oriented categories, such as office productivity, Web performance, and storage, but the VAIO does have a faster startup time. Also, the VAIO is significantly smaller, lighter, and thinner than the non-Ultrabook Latitude E6330.
Like other Ultrabooks, the VAIO's graphics performance is just so-so. In our Crysis 2 graphics tests, the VAIO produced frame rates of between 9.0 (high-quality settings, 1366 by 768 pixels) and 19.1 (low-quality settings, 600 by 800 pixels) frames per second. This is below average for the category, though not by much. The last three laptops we tested averaged frame rates between 12.6 and 29.8 frames per second on the same tests.
The VAIO's battery life is just about average for the category at 6 hours, 2 minutes.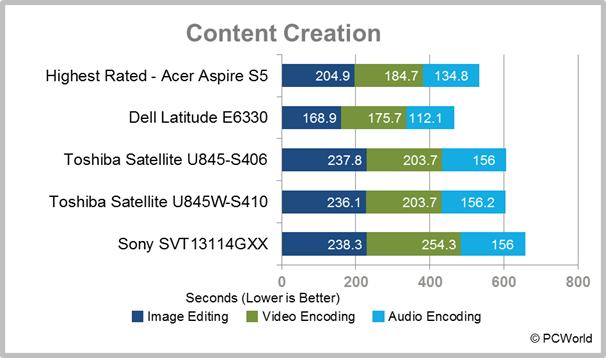 Design: Chassis, Keyboard, and Trackpad
The VAIO SVT13114GXS may fit the Ultrabook specs—it's 0.71 inches thick, has a small SSD boot-drive, and sports a third-gen Intel processor—but, like many Ultrabooks today, it doesn't look quite as sleek as the first Ultrabooks we saw. Its squared-off, angled sides make it look thicker than other Ultrabooks, which usually feature some tapering near the edges to give the illusion of ultra-thinness.
This doesn't mean, of course, that this VAIO Ultrabook is ugly. It's an attractive computer, with a silver brushed-aluminum cover (that proudly sports a large mirrored VAIO logo in the center), angled sides, and a silver aluminum interior. The keyboard deck is made entirely of one piece of aluminum, which gives the laptop a higher-end look.
The VAIO has a full-sized keyboard with black island-style keys. It's easy to use, thanks to the keys' good feedback and rough texture (the keys are a little small, but the texture ensures no slippage). Above the keyboard are four buttons: the power button, an Assist button (it opens up VAIO Care), a Web button (opens the default Web browser), and a VAIO button (can be configured to open select VAIO software).
Directly below the keyboard is a medium-size trackpad. The trackpad is comfortable—it's sensitive and accurate and supports multitouch gestures such as pinch-to-zoom. It's slightly wider than average, which makes multitouch gestures a little easier to perform, though some of these gestures can be erratic and choppy. There are no discrete mouse buttons; instead, the entire lower half of the trackpad can be pressed.
The VAIO's port selection is a little weak, even for an Ultrabook/ultraportable laptop. There are only two USB ports—one 2.0 and one 3.0, both on the left side of the computer, and next to each other. This can be an issue if you happen to have a large USB dongle, since you may end up blocking part of one of the ports. The right side boasts a gigabit ethernet port, HDMI-out, VGA-out, a multi-in-1 card reader, and a headphone jack.
Screen and Speakers
The VAIO SVT13114GXS sports a glossy 13.1-inch LED-backlit display with a native resolution of 1366 by 768 pixels. It's not very bright, and in my tests I found that I had to pump the screen up to its brightest setting even in a slightly darkened room (and with this screen, working outside is pretty much not going to happen). Color looks accurate, though, and text and images are very crisp. Video looks and sounds good on the VAIO, though running any graphic process seems to make the fan go into overdrive. In other words, audio from a video would sound better if it didn't have to compete with the somewhat loud drone of the fan.
The VAIO's speakers actually sound very good, considering this is an Ultrabook. Most ultraportable machines aren't known for their speaker quality, but the VAIO's speakers produce full, loud sound. Unlike the speakers, the headphone jack offers up very quiet (but clean) sound.
The Bottom Line
At first glance, the Sony VAIO SVT13114GXS looks like a nice business-oriented Ultrabook. But on closer inspection, it has some serious issues that will bother business users. The screen looks good, but it's too dark, so users will have a difficult time using this laptop in bright settings. The speakers sound excellent, but the headphone jack is too quiet, which means users will need some fantastic noise-canceling headphones if they want to take advantage of the VAIO's sound system on a long flight. Finally, the VAIO just doesn't have enough ports for business users, who often have multiple gadgets and dongles to connect to their laptop.
The VAIO may be smaller, lighter, and thinner than the Dell Latitude E6330, but it just doesn't match up in performance or usability. So unless you're looking purely at aesthetics, look elsewhere for a business ultraportable.