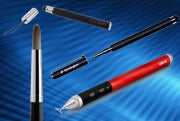 Few things can make you feel clumsier faster than trying to write or draw with your finger on a tablet screen. You quickly realize that tablets weren't designed to receive finger-based instructions any more precise than scrolling, swiping, or clicking a virtual button. That's where the stylus comes in.
Using styluses with tablets is by no means a new technology (they were sold alongside tablets featuring Windows XP as early as 2002), but creative apps such as Paper for the iPad and other innovations have brought them back into the limelight.
Modern styluses come with conductive brush heads for electronic painting, magnetized bodies for easy storage, and even Bluetooth connections for pressure sensitivity. But these seemingly simple devices can vary tremendously, depending on the specific purpose they were designed to serve, so you should figure out what you want from your stylus before you buy one.
Whether you want to take notes at the office, paint a digital Mona Lisa, or whip your friends at Draw Something, you can find a stylus that suits your needs. In this story, we'll look briefly at five styluses that differ significantly in design and purpose.
Applydea Maglus
The Maglus, from Irish company Applydea, is a high-quality stylus for people who want to write on their tablet. The Maglus's firm, highly sensitive rubber tip isn't the smallest one on the market, but the quality of the material makes for a very accurate writing experience. You won't have to worry about losing this €20 (about $22, as of August 7, 2012) either, as it attaches magnetically to your iPad or Smart Cover.
Adonit Jot Touch
Though pricier than other styluses, the $99 Adonit Jot Touch includes additional features and technology. The Jot Touch connects to second- and third-generation iPads via Bluetooth, which permits pressure-sensitive writing and sketching. Other features include shortcut buttons for quickly switching to undo and eraser, and a unique plastic tip that lets you see what you're writing or sketching through a clear disk.
Kensington Virtuoso Stylus/Pen
If you're looking for a discrete stylus to clip in your breast pocket, the slick Kensington's Virtuoso Stylus/Pen could fit the bill. The Virtuoso feels just like a pen in your hand. And in fact, if you aren't using your tablet, you can pop off its cap to turn the stylus into a functioning ballpoint pen. Priced at $15, this is a very affordable stylus.
Sensu Brush
The Sensu Brush is a unique tool for artists who want to unlock their tablet's creative potential. This $40 stylus has a standard rubber head, but its claimto fame is its conductive brush tip, which lets you "paint" by using the same brushstrokes and technique you would with a real paintbrush.
Spigen SGP Kuel H10 Stylus Pen
The SPG Kuel H10 from Spigen takes the standard stylus design and compresses it into an even more portable size. Because it's shorter than rival styluses, the Kuel H10 might take some getting used to. The most unusual feature of this $13 model, however, is a strap that connects the stylus to your device's 3.5mm headphone jack, enabling you to store it within reach when you're not using it.
For a hands-on look at three styluses designed specifically for writing, check out "Stylus Shoot-Out: Which Writing Stylus Will Reign Supreme?" on our sister site TechHive.