At a Glance
Expert's Rating
Pros
Smart-looking galleries can be created in minutes
Free plugins and Flickr support
Virtually no learning curve
Cons
Free version is limited to just 50 images
Our Verdict
Showcase your photographs on your website with free Juicebox.
Not a day goes by without cat pictures being shared on Facebook, or landscape photos being reused on Flickr via Creative Commons. But the recent acquisition of Instagram by Facebook may have you a bit nervous about hosting your images on someone else's servers. Or you may be a professional Web designer with a portfolio of clients wanting images hosted for business reasons. In these cases—and many others—you can retain more control over your photos by hosting them on your own website. Instead of programming a photo gallery from the ground up, you can take advantage of an app like Juicebox (various paid and free versions) instead.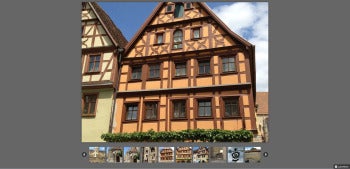 Right out of the gate, there are two big advantages to Juicebox. If your images total no more than 50, then it's all totally free (albeit with some nice features disabled). Second, it's all built on the up-and-coming HTML5 code standard. So you can be guaranteed a nice-looking smooth professional design with a minimum of fuss and virtually no learning curve. You don't have to be a Web designer, or even particularly tech-savvy, to use this program. Open up the app, follow the easy-to-understand instructions and copy/paste the provided code into your website. Done and finished. No fuss, no mess.
You can upload the images straight from your hard drive or from a Flickr account. Once inside the Juicebox app, the images can then be cropped and resized, and you can customize other factors such as the gallery background color, the opacity, the width and height, whether or not you want thumbnails and so on. Then when it's ready, it gives you the code to put into your website and you can also preview everything first in your browser to make sure it looks the way you want it.
If you're looking for an easy, quick way to host your own photos, then give Juicebox a try. The 50-images only rule for free customers is a little restrictive but like Twitter, it forces you to be concise and to the point, including only the images that really matter. There are two paid versions, Pro Single for $49 and Pro Multi for $99, both of which offer the same amount of professional features. The extra $50 for Pro Multi entitles you to use Juicebox on 5 domains instead of 1.
If you're prepared to shell out the cash for a Juicebox upgrade, you can take advantage of more features such as the removal of the branding, support for audio, autoplay, and watermarks. Oh and don't forget that upgrading removes the 50 maximum images restriction.
You may be pleasantly surprised by how nice you find Juicebox to be. So the next time your cat-loving buddy asks how to make a new online cat shrine without worrying about Fluffy endorsing cat food, send them this app. They'll have it up and running in no time.
Note: The Download button takes you to the vendor's site, where you can download the latest version of the software.
—Mark O'Neill